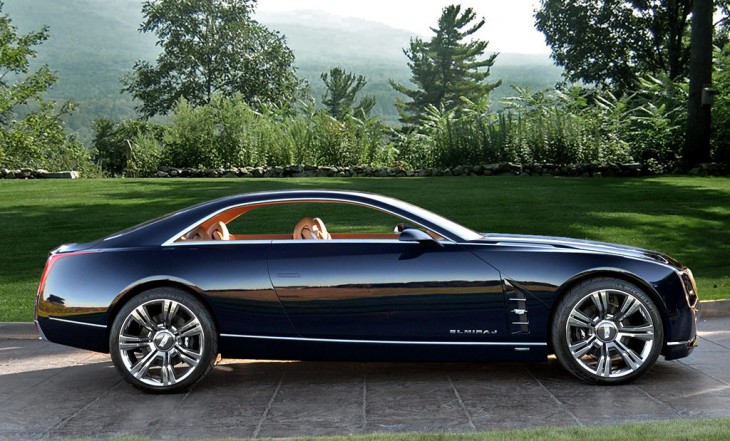 The Cadillac Elmiraj is Cadillac's take on the luxury two-door grand coupe.
At 205 inches (5.2 metres) the Cadillac Elmiraj is an imposing vehicle with plenty of presence, and it wears Cadillac's Art & Science design style very well. Looking both futuristic and classical at the same time. Yet despite its size, Cadillac have engineered the car to be as light as possible using their new RWD vehicle architecture.
Speaking about the Elmiraj, Clay Dean, Cadillac's executive director of advanced design said, "This concept is the second chapter, following the Ciel Concept, of our exploration of the personas of true luxury. This project originated around the simple persona of "the drive," or the visceral experience of driving a great luxury coupe. It's an expression of the confidence and poise you feel driving a high-performance car, which we feel is an essential element of top-level luxury."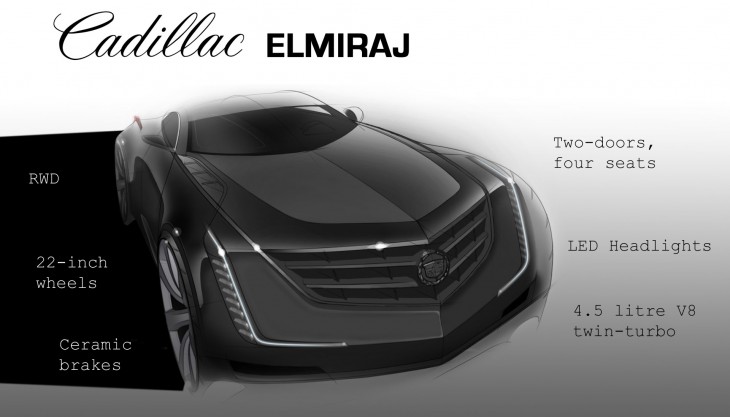 The front of the car is unmisakable as belonging to anything other than a Cadillac. The long hood pushes the cab further back projecting a sense of power and performance. The two vents in the hood are functional, acting as hot air outlets for the engine. Behind the 22-inch wheels are ceramic brakes and monoblock calipers.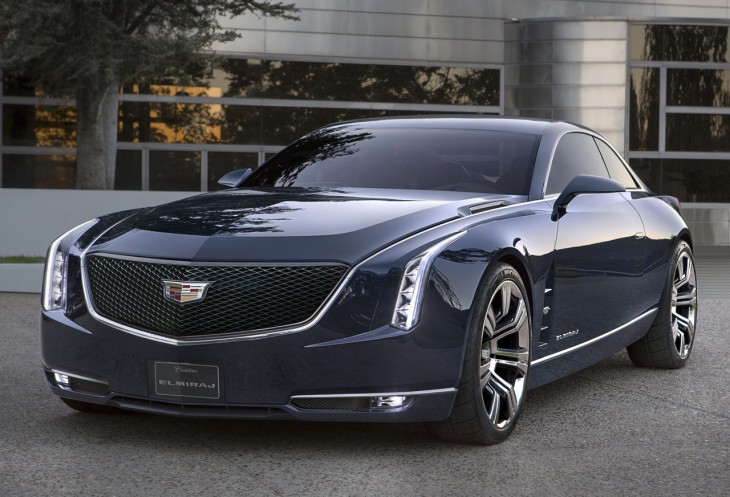 On the inside the Cadillac Elmiraj is equally refined. Backlit titanium trim curves from the cowl to the doors, dividing the camel leather from the wood trim. Cadillac Studio craftsmen handpicked fallen Brazilian Rosewood, a quality wood veneer used for hundreds of years in home furnishings and musical instruments. The wood is hand-cut into three dimensional sections for perfect control of the grain flow.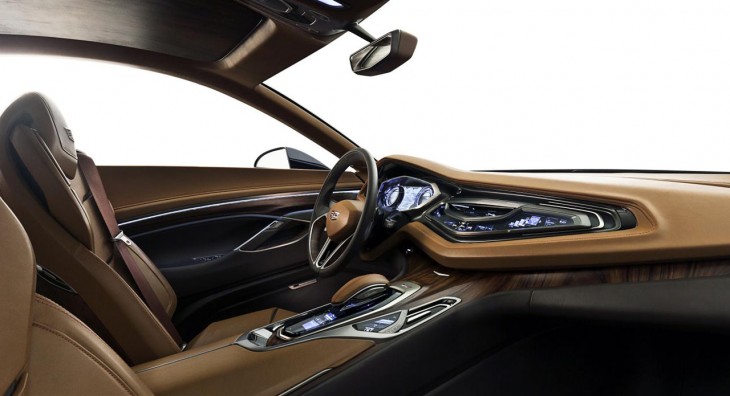 The Elmiraj's instrumentation features an analog tachometer and speedometer that are transparent. Directly behind the analog gauges sits a wide screen, high resolution display which projects driver information and the output of a front-mounted camera. A 10-inch touchscreen for navigation and connectivity can be concealed inside the instrument panel when not in use.
The seats are, quite frankly, a work of art. Although in all honesty they don't look overly comfortable. The rear bucket seats each contain a valet feature to ease entry and exit. The front bucket seat slides 10 inches forward while the rear bucket seat slides 4 inches forward to meet the passenger, then slides him or her back into position once seated. The rear bucket seats recline for additional comfort.

Powering the Cadillac Elmiraj concept is a 4.5 litre twin-turbocharged V8 which delivers an estimated 500 horsepower and 500 lb-ft (678 Nm) of torque. The power is sent exclusivley to the rear wheels via an automatic transmission.
The Cadillac Elmiraj was designed at General Motors' advanced design studio in North Hollywood, Calif., under the direction of Frank Saucedo. The car was built by Cadillac engineers and craftsmen in Michigan.
Cadillac Elmiraj Specifications:
Height: 55 in / 1397 mm
Width: 76 in / 1930 mm
Length: 205 in / 5207 mm
Curb Weight Approx: 4000 lb / 1814 kg
Engine: 4.5-liter Twin Turbo V8
Power: 500 hp / 373 kW
Torque: 500 lb-ft / 678 Nm