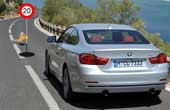 Birds understand speed limits, sort of
According to researchers birds take off from the road at different distances to oncoming cars depending on the speed limit, and not, as you might think, depending on the speed of the car.


10 Motoring facts you never knew
Odd car-related facts from around the world.


What was the most over hyped car ever?
It's a pretty easy question when you think about it.


Take 10 Years off Your Car
With just a little effort and not much money you can take years off your car by following these tips.


Sports and Racing Seats
See images and specifications on a wide variety of makes, models and styles of sports and racing seats.



How to check your oil
It's not difficult, and keeping track of the oil level in your vehicle is one of the most basic general maintenance checks you can do.


Modifying a Car on a Budget
Here's a few short articles and tips for anyone who is thinking of undertaking their first small project car.
The Plan
The Project Car
Your Workspace



How to Perform a Heel-and-Toe Downshift
The heel-and-toe gearchange is an advanced driving technique which allows for smoother driving and braking.


Great Cars
When people talk about 'great cars' what exactly do they mean? Great cars can come in all shapes and sizes, from ultra exotic Ferrari's to the lowly Beetle, so there is obviously no exact formula to which a great car can be built.


Car Design History
Throughout the decades of car design there have been many events and technological advances which have helped bring about major design trend changes.


Become a Car Designer
If you love drawing pictures of cars, and have dreams of working with the latest and most advanced automobiles on the planet, why not look into becoming a car designer.
Car Design Universities



Ascari Race Resort
What do you do if you're a millionaire with an addiction to speed (as in driving fast). One idea is to visit the Ascari Race Resort located in the south of Spain.




Cars of the Future
What do cars of the future have in store for us? What will influence future designers? What technologies will be available? And how much control will we have?