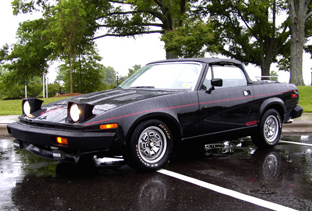 Photo by Storm Bear Williams

Year (of specifications)
1975 - 1981
Engine
2.0 litre inline 4-cylinder
Transmission
4 (later 5) speed manual or automatic / RWD
Max speed
110 mph
0-60 mph
-
Horsepower
92 horsepower @ 5,500 rpm
weight
1,016 kg / 2,241 lbs

The Triumph TR7 was the successor to the TR6. But whereas the TR6 had traditional characterful British sports car styling, the TR7 had an extremely controversial wedge shaped styling. Significantly more advanced than its predecessor the TR7 featured a monocoque chassis instead of body-on-frame construction.

Designed primarily for the American market, the Triumph TR7 first went on sale there in 1975 with a 92 horsepower 2.0 litre 4-cylinder engine. Initially it was just offered in coupe form. It wasn't until 1979 that a convertible version was available. In the same year the transmission was upgraded to a 5-speed manual gearbox.

Sadly the TR7, and it's V8 powered counterpart, the TR8, both suffered from the crippling union strikes which were bringing the UK auto industry to its knees. Production during its short lifespan rotated between three different factories, and it was never a profitable model for British Leyland (Triumph's owner), despite the fact that over 112,000 examples were produced.