Strange Aircraft: PZL Mielec M-15 Belphegor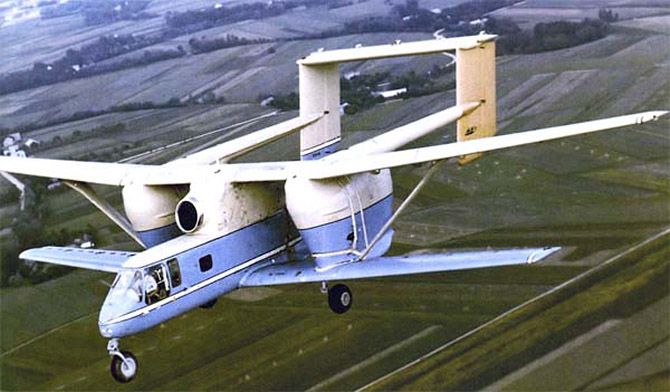 The PZL Milec M-15 was a strange agricultural aircraft developed in the USSR. The aircraft was designed and built in Poland for Soviet agricultural use. Mainly crop spraying and dusting over the vast expansive farms of the USSR.

The aircraft was designed in the early 1970s as a replacement for the Antonov An-2 - a large single-engine biplane which first took to the air in 1947. The M-15 brief called for a modern and efficient aircraft which must be jet-powered. The two chief designers of the aircraft at PZL were Kazimierz Gocy?a and Riamir Izmailov.

They came up with a biplane configuration for the M-15, and in doing so inadvertently designed the only jet-powered biplane ever built. In 1972 the first prototype took to the skies. It was built using many components from the AN-2, including the forward section and the wings. It was powered by a single Ivchenko-Progress AI-25 turbofan engine mounted above the fuselage. Continue


Biker lands on car roof, sticks the landing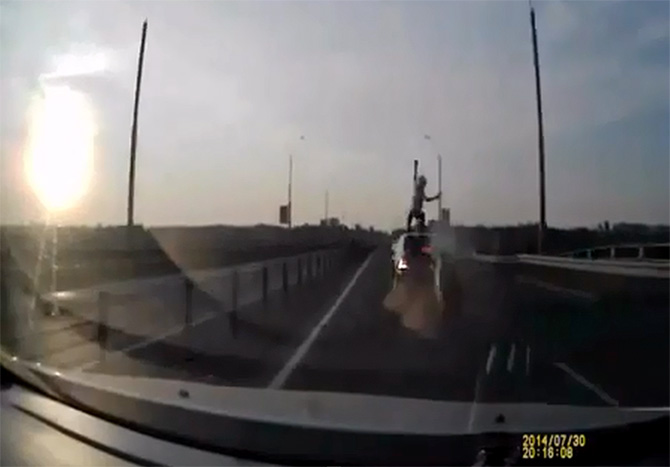 Somewhere in Russia a biker is feeling supremely lucky. Not just because he survived a high-speed accident, but that he did it with such awesome style that probably won't have to pay for a beer until the next millennium.

The incident apparently occurred somewhere near Korolyov, a few miles north of Moscow. In the video, the biker undertakes the car filming the event just as a car in the slow lane (which looks like a newish BMW 7-series) pulls out to overtake. The biker slams into the back of the car and performs a text-book somersault onto the roof, landing quite expertly on his feet. He then clings onto the roof as he and his new ride come to a halt on the highway. The camera car then comes to a halt a few metres behind the smoking wreck of his bike. Continue


Confederate Motorcycles X132 Hellcat Speedster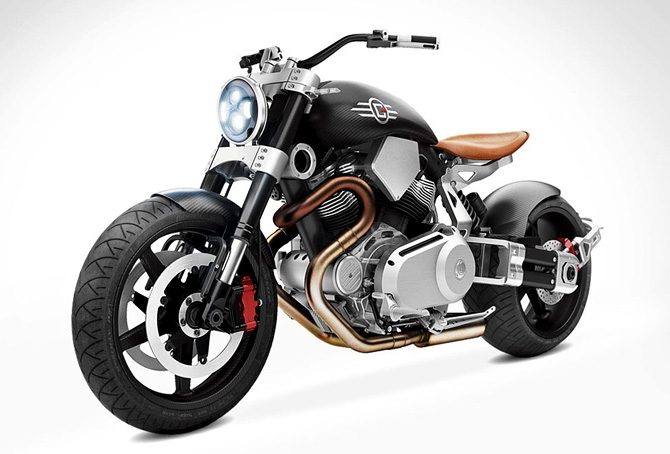 Confederate Motorcycles are some of the most exquisite, hand-built, two-wheeled machines on the planet. And the latest version of the Hellcat is no different. Based on last year's X132 Hellcat model, the X132 Hellcat Speedster is a revised and enhanced model which benefits from the input of Pierre Terblanche, one of the world's most prolific and famous motorcycle designers, having previously worked for the likes of Cagiva, Ducati, Piaggio, Moto Guzzi and Norton.

The Confederate X132 Hellcat Speedster, like all Confederate Motorcycles, is hand-built in Birmingham, Alabama. It's powered by a massive 2,163 cc (132 cu in) fuel injected V-Twin engine which produces a healthy 121 horsepower and an even more impressive 140 ft-lbs of torque. It features a 5-speed drag racing transmission, and if it's anything like the modified Hellcat which set a record at the 2013 BUB Motorcycle Speed Trials by hitting 172 mph, it should be pretty quick. Continue


McLaren P1 GTR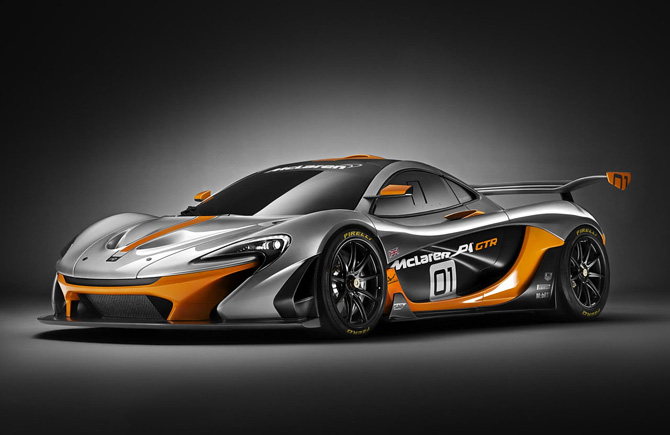 After a couple of months of teasing and speculation, McLaren have finally unveiled the McLaren P1 GTR in the flesh. The car was originally announced back in June, with more information following in July, and at the 2014 Pebble Beach Concours d'Elegance is was debuted.

The P1 GTR arrives 20 years after the legendary F1 GTR appeared ahead of its 1995 GT season debut. Like the F1 GTR, McLaren are hoping to dominate the track with the new P1 racer. And with no need to make the car road legal, the P1 GTR is a track-focused, high-performance rocket which is the most powerful model produced by McLaren Special Operations ever.

While the McLaren P1 GTR is based on the P1 road car, there are numerous modifications and upgrades to the vehicle. Aerodynamic improvements include a new front clip with a splitter and redesigned radiator ducts, revised lateral air intakes, repositioned exterior mirrors, underfloor air management, a large rear diffuser and a huge rear spoiler mounted on carbon fiber pylons.
Continue


What would BMWs look like without the 'kidney grille'?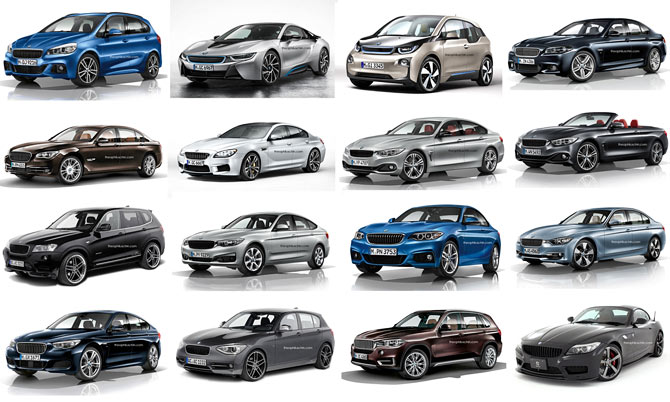 BMW's trademark 'kidney grille' has been around since 1933 when it was introduced on the BMW 303, which was coincidentally also the first BMW automobile to use a straight-six engine. Since then it has become a hallmark of the company, featuring on almost every single model since, ranging from their SUVs to their sports cars and everything inbetween.

But what if BMW decided to ditch the kidneys in favor of a single frame grille? For starters it would certainly get BMW fanboys all of a flutter. The recent update to the numerical naming system was enough of a shock for some. But would they look better or worse for the change? Continue


Dodge Charger SRT Hellcat - 707 hp and a 204 mph top speed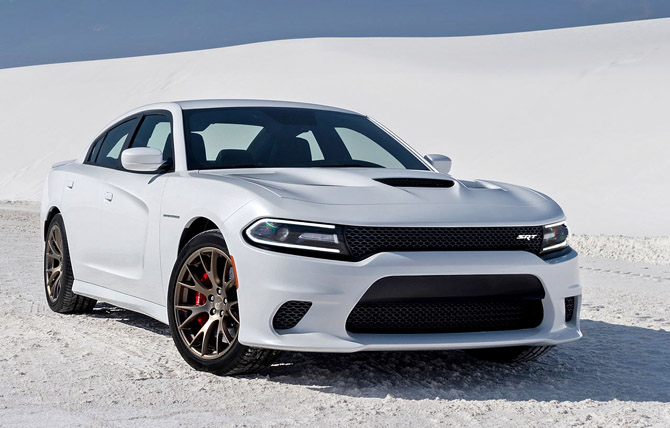 Dodge and SRT designers and engineers have gone all-out and created a four-door sedan with supercar humbling straight-line performance. The 2015 Dodge Charger SRT Hellcat is the fastest and most powerful production sedan in the world. It's powered by a massive 6.2 litre supercharged Hemi Hellcat V8 engine churning out an enormous 707 horsepower and 650 lb-ft of tarmac rippling torque. Connected to a heavy-duty 8-speed automatic transmission, the engine is capable of catapulting the car from 0-60 mph in 3.7 seconds, it posts a quarter-mile time of 11-seconds dead, and it has a jaw-dropping 204 mph top speed.

The drivetrain used in the Charger SRT Hellcat is identical to that found in its two-door stablemate, the Challenger Hellcat, yet interestingly the Charger has a 5 mph higher top end, but a 0.2 second slower 0-60 mph time. Continue


Ferrari F80 Supercar Concept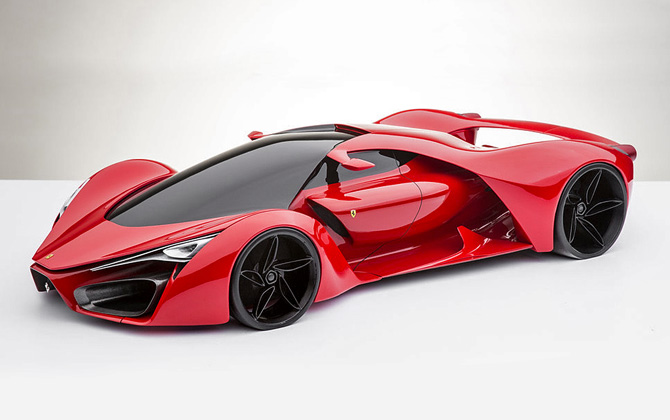 The Ferrari LaFerrari is still more-or-less brand new, but Italian designer Adriano Raeli - who studied transport design at the Art Center College of Design in Pasadena, California - still thinks it's time for a replacement.

The Ferrari F80 is in the same vein as the LaFerrari, in that it incorporates similar dramatic bodywork and clever aerodynamic tricks. It's also extremely curvy and drop-dead gorgeous.
Continue


McLaren 650S Sprint - track toy for the well-heeled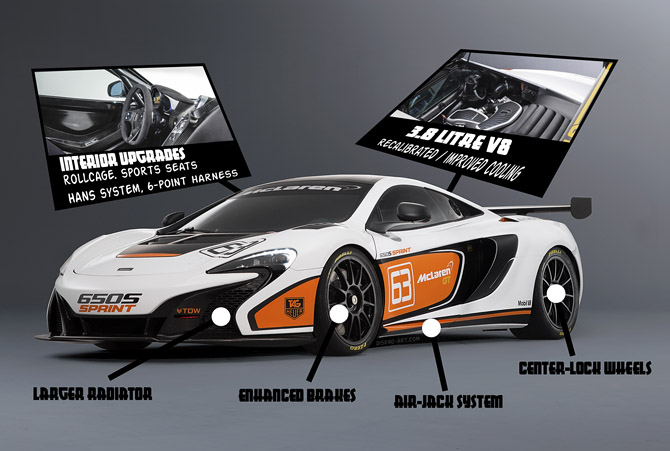 McLaren's new 650S model now comes in three flavors, the standard road going 650S, the competition-spec 650S GT3 for serious racers, and now there's the 650S Sprint which is aimed at track enthusiasts who still want a little bit of comfort. The 650S Sprint also replaces the MP4-12C-based 12C Sprint as McLaren's track toy for the super-rich.

Compared to the road model, the 650S Sprint features increased downforce and better cooling airflow to the 3.8 litre twin-turbocharged V8. It also features a competition-spec fuel tank and quick-fill cap, a larger radiator borrowed from the GT3 car, a new hood with additional cooling ducts for the radiator, front wing louvres for improved airflow, reduced ride height and recalibrated damping and spring rates, 19-inch center-locking race wheels with either Pirelli slicks or wet tires, onboard air jack system, and an upgraded braking system.
Continue


Jaguar and Bremont create E-Type inspired watch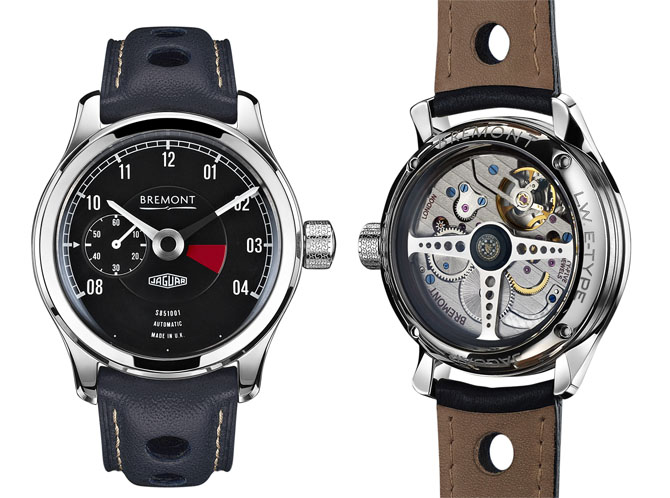 To celebrate the launch of the six new lightweight Jaguar E-types to be built by Jaguar Heritage, the company have teamed up with the British watchmaker Bremont to create limited edition watch which will be offered to buyers of the new E-types. Just six watches will be built.

The Jaguar/Bremont chronometer watches are inspired by the black dial from the Lightweight E-types tachometer. The chamfered hour and minute hands are designed to emulate the needle on the tach, while each watch also features the unique engine number of the car it is paired with.
Continue


Range Rover Sport SVR - the fastest, most powerful Land Rover ever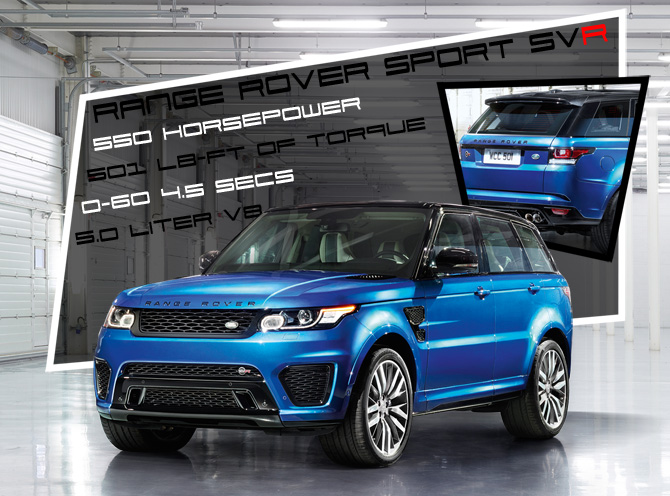 Land Rover have just unveiled the Range Rover Sport SVR, the fastest, most powerful Land Rover ever produced. It is also the first model to wear the SVR badge, which is being brought in for future high-performance models from both Land Rover and Jaguar.

Based on the new Range Rover Sport platform, the SVR model has a revised chassis, upgraded engine, new wheel and tire combinations, and more aerodynamic bodywork. It all adds up to produce a luxury SUV which can hit 60 mph from a standing start in just 4.5 seconds, continue on to an electronically limited 162 mph top speed, and which is the fastest ever production SUV around the Nurburgring circuit with a time of 8 minutes and 14 seconds.

Powering the Range Rover Sport SVR is a reworked version of the 5.0 litre V8 used in the standard Range Rover Sport. This engine now produces 550 horsepower and 501 lb ft (680 Nm) of torque, and amazingly fuel economy remains the same. The engine is connected to an 8-speed automatic transmission and permanent four-wheel drive.
Continue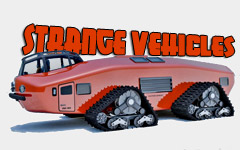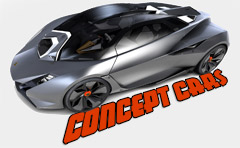 MarineKart - a go-kart for the water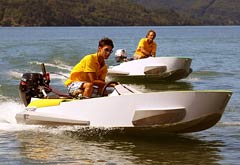 The MarineKart is basically a go-kart for the water. It can carry up to four people, weighs just 127 lbs (58 kgs) without a motor, and is powered by an electric outboard motor. Continue




AeroGallo - a real flying cock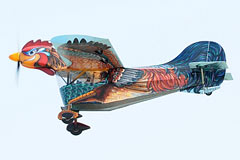 The AeroGallo is a one-of-a-kind, two-person light aircraft which was built in Italy. Translated from Italian, its name means quite literally 'Flying Cock'. Continue




Strand Craft V8 Wet Rod luxury PWC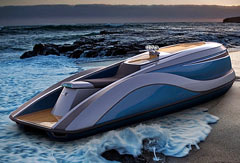 Thinking about it now, it seems odd it's taken this long for someone to come up with the idea of a luxury, high-class jetski or personal water craft. The Strand Craft V8 Wet Rod is a 16-feet (4.8 metre) long vessel capable of carrying up to three people. Continue




Textron AirLand Scorpion - "Affordable" Military Jet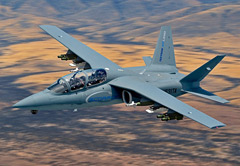 "Affordable" and "military jet" are not two phrases which are usually used in conjunction. But Textron AirLand Enterprises have just rewritten the rule book when it comes to military jets. Continue




Lamborghini Canto - What the Murcielago could have been?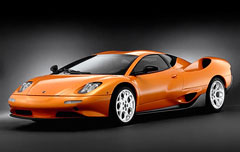 Back in the late 1990s, when Lamborghini were starting to realise they needed a replacement for the ageing Diablo, they started reviewing design proposals from various automotive design firms. Zagato's offering was the Zagato L147 SuperDiablo, or as it was to be later known, the Lamborghini Canto. Continue




PZL-230F Skorpion - Prototype Polish Jet Fighter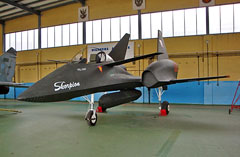 The PZL-230F Skorpion was a prototype jet aircraft which very nearly saw production. The project was started in the late 1980s by PZL. The Skorpion was a compact aircraft, it had a single pilot, twin jet engines, and was designed to accept both Warsaw Pact and NATO munitions. Continue




5 Concept Cars from the '90s which deserved to be built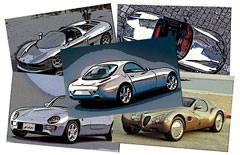 Back in the 1990s there were many weird and wonderful concept vehicles. There were also some downright terrible ones. Gathered here are five of the best concept cars from the '90s which deserved a shot at production. Continue




ISX Enterprise - what a real warp-drive spacecraft might look like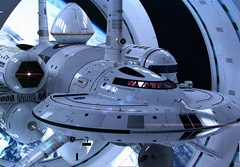 Using the latest available information from NASA, and adding a healthy dose of artistic license, designer Mark Rademaker has created a series of images showing what the very first warp-capable spacecraft built by humans might look like. Continue




1930s inspired Polar Snow Crawler PSC-001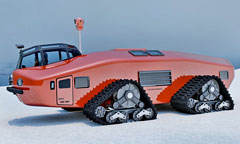 It might not look like it, but this futuristic-looking giant was actually inspired by the one-of-a-kind Antarctic Snow Cruiser which was constructed way back in the 1930s. Continue




ZiL-2906 Cosmonaut Recovery Vehicle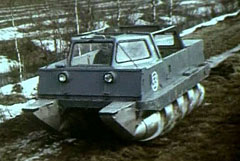 Back in the 1980s, when returning cosmonauts were sat in their Soyuz capsule awaiting collection, there was a possibility that the first person they saw would be driving one of these things. Continue






Categories
Sports Cars
Modified Cars
Luxury Cars
4x4s and SUVs
Hot Hatches
Motorcycles
Power boats and Yachts
Sport Submersibles
Strange Aircraft
Extreme Land Vehicles
Extreme Sea Vehicles
Extreme Air Vehicles
Automotive Tools
Top Ten Lists
Tutorials and How To's




Resources
Contact
About
Site map
Privacy policy
Other Languages