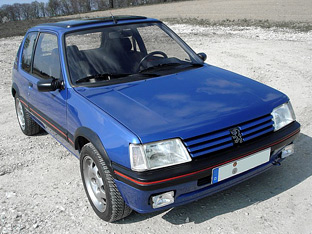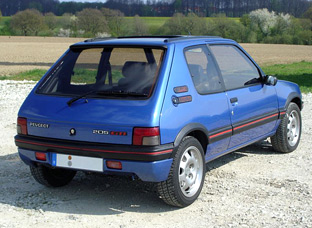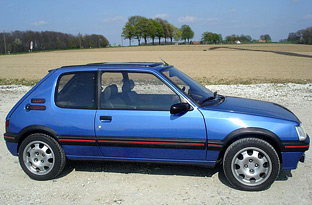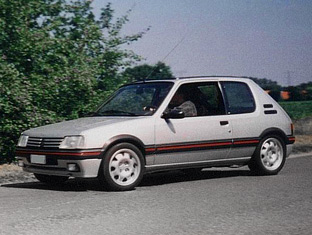 Top 3 images from Christoph

Year (of specifications)
1984 - 1994
Engine(s)
1.6 or 1.9 litre, 4 cylinder
Transmission
5 speed manual FWD
Max speed
120 mph (1.6)
0-60
8.6 seconds (1.6)
Horsepower
105 - 126 hp
weight
909 kgs (1.6)

Peugeot 205 1.6 GTI
When Volkswagen brought out the Golf GTI in 1976 a new type of sportscar was born. The hothatch. Many of these affordable, practical, everyday cars are capable of keeping up with much more expensive dedicated sportscars. Understandably the public loved them and it was the start of a big success story for all involved.

The other main manufactures needed something to compete against the VW, and the French were hard at work trying to produce a Golf GTI beater. Renault went with the R5 turbo which had a small turbocharged engine and no weight. This turbocharged biscuit tin was quick but had more than its fair share of downsides. It wasn't until Peugeot decided to throw a powerful motor into its already successful 205 hatch that the Golf GTI had some serious competition.

Launched in 1984 the 205 GTI's factory trim gave it a subtle sporty look. With its 14 inch alloy wheels, plastic wheel arch trim, a small rear spoiler, additional driving lights and different larger bumpers. In its day it really looked the part - and loads better than the standard 205.

The interior was very sporty with red carpets, supportive sports seat in the front, a leather steering wheel and a leather gear knob. The original 205 GTI's came with a 1.6 litre, 4 cylinder, 8 valve engine with 105bhp - later being increased to 115bhp. These days your lawnmower probably won't have a lot less power than that, but in the mid 80's and in a featherweight hatchback with tinfoil like body panels it was easily enough. This is a very nimble and nippy little rocket, even today on a twisty stretch of road the 205 GTI can hold its own against modern machinery. This is why it's rapidly turning into a modern day classic - and it's still very popular with real petrolheads.

The Golf GTI was a solid and stable car in every way, while the 205 GTI was a hooligan. It was an out-and-out drivers car, and any body who's ever driven one will tell you that it's a great experience. There's lots of reasons for this little cracker being such fun to drive. Handling, responsive engine, lightweight and good brakes all combine to make a great car. This 205 has them all. From the moment you turn the key, the zippy engine and low exhaust note let you know you're in something a bit different. Then you set off rattling up the road ( everything rattles due to poor interior build quality), you'll soon discover more things about it that make it a pleasant break from the norm. Every journey becomes a thrill and not a chore. You'll want to move farther away from your place of work to deliberately have a longer commute. The driving experience really is that good. The beauty about the way the 205 GTI handles is its razor sharp steering and lightening fast turn in, combined with an astonishing level of grip (from a front wheel drive car), its lightweight, effective braking and instant throttle response. It's a car that fills you with confidence and you always get the feeling that you could of taken the last corner carrying greater speed. Be wary of trying to hard though. If you go too fast into a corner and lift off the throttle, the back end will break away fast and this has left a lot of 205 GTI's parked up in dry stone walls and the likes. Be careful - you have been warned! The trick is it lift off and get back onto the throttle fast to pull the car round the corner. This lift off oversteer characteristic of the 205 GTI is what makes it such a hooligan, and why some people call it the next mark 2 Escort (fast, fun and throwable). The 205 GTI was an instant success and Peugeot sold them by the ship loads. It's still popular today and modern hothatches often get compared against it for handling and drivability.


Peugeot 205 1.9 GTI
The 1.9 gti was introduced in 1986 in order for Peugeot to keep up with the competition. With the larger capacity engine power was increased from 115bhp to 128bhp. Low down torque was greatly increased too and throttle response was amazing, greatly improving the way it drove. Now the little pug had more get up and go it needed better stopping power so disc brakes where fitted at the back as well as the front. The 1.9 205 GTI also had larger 15 inch Speedline alloy wheels to beef up the outside. You could say that the inside was beefed up too with the seats being half covered in cow. Both the 15 inch wheels and the half leather seats where big improvements, and a lot of 1.6 GTI owners retro fitted them to enhance the look of their motors. Obviously the main difference between the 1.6 and the 1.9 was bhp, and for years people have been modifying them to produce even more power. The most popular mod is swapping the original engine for an mi16 engine (Peugeot 405 mi16, 16v 160bhp) with impressive results.


The Peugeot 205 had many fans and some people still describe it as the best hothatch ever. Lets just hope that one day Peugeot will make a car with that 205 magic once again. For now though we'll have to make do with the original. So if you want some basic fun motoring, and you can find a good unmolested one, buy it.



Words by Colin Fowler.