Alpine Vision Gran Turismo



The Alpine Gran Turismo concept is a drop-dead gorgeous race car concept developed by a team of engineers and designers working Renault's reborn sporting division, Alpine.

The Alpine Gran Turismo concept currently only lives in the simulated racing environment that is Gran Turismo 6. The concept was made available as part of a free update to the game in March 2015.

However as well as being built for the digital world, a full size model of the car has also been created. Unfortunatley that little word 'model' probably means Alpine aren't planning on building a working version.

And that's a massive shame, because if was anything like the GT6 car, it would feature a carbon fiber monocoque chassis, fancy pushrod racing suspension, and be powered by a mid-mounted 4.5 litre V8 producing 450 horsepower and 580 Nm of torque. A seven speed sequential gearbox transmits power to the rear wheels. The theoretical top speed of the 1,980 lb (900 kg) racer is just shy of 200 mph.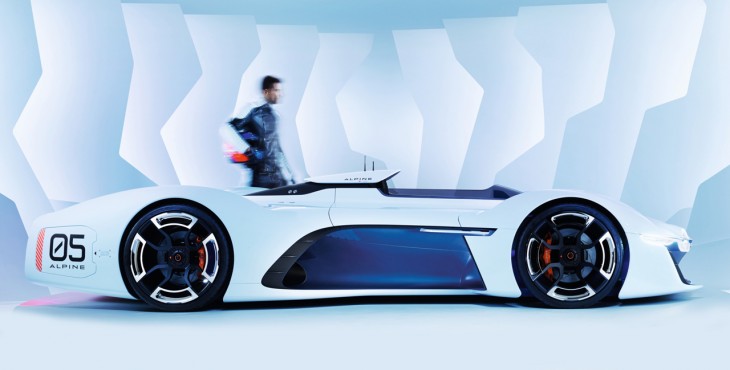 Victor Sfiazof, the Alpine Gran Turismo concept's principal designer, said of the car; "It's a genuine sportscar which combines the passion for cars with enjoyment behind the wheel. There are numerous references to the past, present and future. The idea of a barquette stemmed from the Alpine A450's involvement in the Le Mans 24 Hours. That said, the front end takes its inspiration from the A110, while the vertical fins at the rear recall the A210 and A220 while making a real contribution to the car's styling. As an aeronautic fan, I also wanted to incorporate cues from the world of aviation, too. The airbrakes add a nice high-tech touch to the rear end."

Gran Turismo 6 players will be able to choose from three different racing liverys for the Alpine race car: White and blue - also the color scheme chosen for the full-scale model of the car. Orange and blue, which was inspired by the Alpine A450, two-time European Endurance Champion, and a simple sinister matt black.


| | |
| --- | --- |
| Make | Alpine |
| Model | Vision Gran Turismo |
| Concept Year | 2015 |
| Engine / Drivetrain | 4.5 litre V8 (450 horsepower) |