Citroen Cactus M



The Citroen Cactus M concept is a modern day version of the funky, beach-ready Citroen Mehari from the 1970s. The Cactus M is an open-air crossover capable of going off the black top and onto slightly rougher ground. Just like its predecessor, the Cactus M isn't a rugged off-roader, but it can cope with uneven ground better than the average convertible.

The concept is intended to be a fun and versatile styling exercise, but not exactly a mainstream vehicle for the masses. The upright windscreen, raised body and large wheels underline its personality as a leisure vehicle. This impression is reinforced by the sculpted wheel arches and bright "Hawaii Blue" paintwork. Additional elements of the Cactus M's styling were inspired by the earlier Citroen Aircross concept.

Amongst the innovative features, the Cactus M's modular cabin features a 'couchette' and a roof that can be made into a tent. The inflatable roof (which is normally stored underneath the floor of the trunk and must be erected by hand) features an innovative operating mechanism and provides protection in the event of rain. Of course a solid, normal roof, like the sort fitted to almost every other vehicle does more or less the same thing. However on the Cactus M the roof can be turned into a bivouac for two people. The occupants can either sleep in the open or under cover, using the inflation function to turn the roof into a freestanding tent. This tent folds out at the rear of the vehicle, and is tall enough for an average sized adult to stand upright.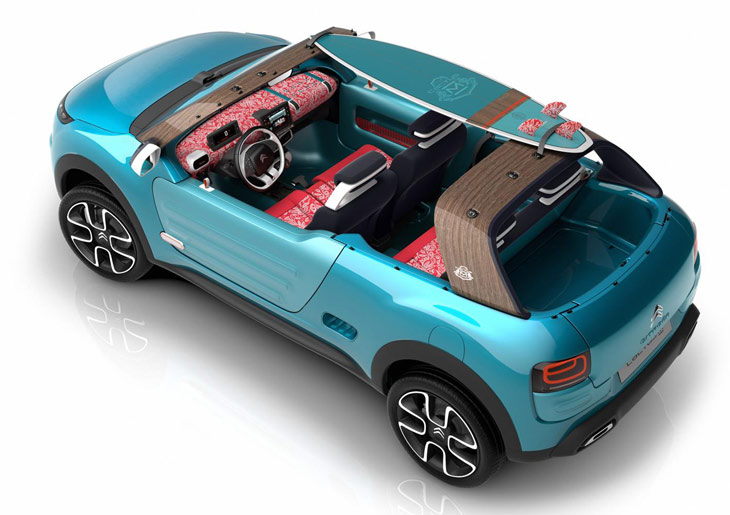 The Citroen Cactus M has two long doors, instead of four shorter ones. The design of these moulded plastic one-piece doors makes them particularly easy to open and close , while also reducing overall vehicle weight. The doors use the same Airbump concept as on C4 Cactus with their thermoformed TPU coating.

Inspired by the world of surfing, the Citroen Cactus M concept is completely open to the outside world. The wood effect on the rear arch and the windscreen pillars brings to mind the way surfboard manufacturers customise their boards. While the cheerful design of the wheels is designed to resemble a floral wetsuit design.

Powering the Citroen Cactus Mehari concept is a PureTech 110 gasoline engine mated to an automatic transmission. The concept also features 'Grip Control' which offers settings for normal, all-terrain, snow or sand.



| | |
| --- | --- |
| Make | Citroen |
| Model | Cactus M (Mehari) |
| Concept Year | 2015 |
| Engine / Drivetrain | gasoline |