Honda Project 2&4 Powered by RC213V



The Honda Project 2&4 Powered by RC213V may not have the snappiest of titles, but it definitely has the most intense styling of any recent Honda. The 2&4 concept was developed through an in-house design competition, where over 80 full-time Honda designers each pitched their own idea for a futuristic Honda.

The Honda Project 2&4 was conceived by designers at the company's motorcycle design studio in Asaka, Japan, who were then aided by team at the automobile design studio in Wako. The fusion of motorcycle and automotive design traits isn't hard to pick out. Despite its origins however, it isn't the first time a Japanese manufacturer has tried to meld motorcycle and automotive design into a single package. Suzuki did it back in 2001 with the Hayabusa-powered GSX-R4 concept.

As well as motorcycles, the futuristic styling of the 2&4 concept was partially inspired by the iconic Honda RA272 single-seat race car from 1965. This car too had an offset seating arrangement.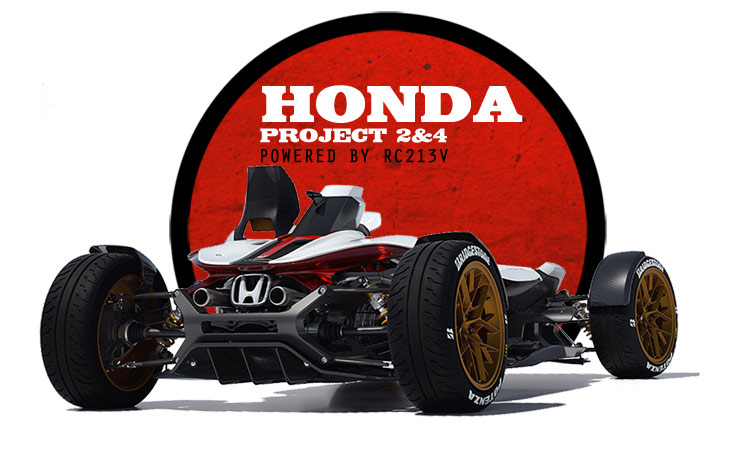 The minimal bodywork of the Honda 2&4 reveals the core frame and functional parts of the car. The vehicle is also extremely compact. Overall length is 3,040 mm, width 1,820mm and height 995 mm. A resulting weight of just 405 kg maximizes the impact of the power of the mid-mounted engine which, together with the low centre of gravity, ensures an exceptionally high level of responsiveness.

Powering the Honda Project 2&4 Powered by RC213V is a detuned, and road-legal version of the competition engine found in Honda's RC213V MotoGP bike. The 999 cc V-4 four-stroke engine produces 215 horsepower @ 13,000 rpm and 118 Nm of torque @ 10,500 rpm. The engine redlines at an incredible 14,000 rpm. Power is transmitted to the rear wheels via a six-speed dual-clutch transmission.



| | |
| --- | --- |
| Make | Honda |
| Model | Project 2&4 |
| Concept Year | 2015 |
| Engine / Drivetrain | 1.0 litre V-4 engine |