Jaguar XJR-19 Le Mans Racer



Back in 1988 and 1990, Jaguar took the chequered flag at Le Mans with the XJR-9 and XJR-12 group C race cars. To commemorate the historic victories, and 30 years since Jaguar's last Le Mans 24hr win, transport designer Mark Hostler has developed a futuristic racer for the year 2020.

The design of the Jaguar XJR-19 LMP1 concept was heavily influenced by the XJR-9 and XJR-12, focusing on cutting a smooth, fluid shape into a primarily rectangular form.This has resulted in a central pod consisting of the passenger cell and drivetrain, suspended between a skeleton of sharp, flat surfaces that echo the slab sided group C racers of the 1980s and '90s.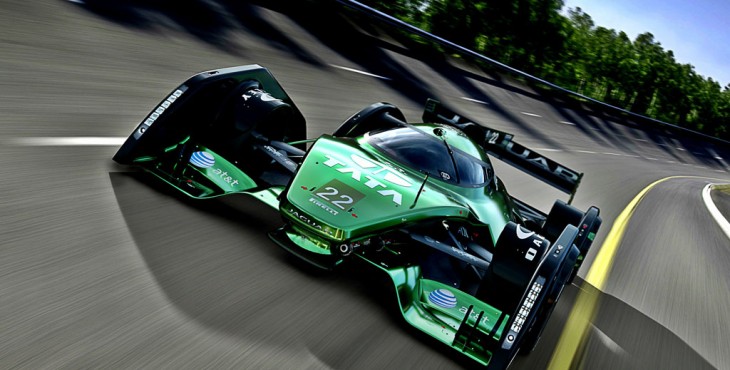 The body shape of the XJR-19 concept is designed to control airflow around the car to provide better cooling to the engine, transmission and brakes, while also increasing downforce and reducing drag. The minimalist, pared back design of the car has also been engineered to reduce repair and refit times.

The Jaguar XJR-19 takes advantage of unique and futuristic material technologies, including structural batteries for large areas of the chassis and aerodynamic components. By creating a material that will hold a charge between two conductive carbon layers and curing it like a traditional composite, the need for heavy on-board lithium battery packs is eliminated. The remainder of the bodywork is composed of carbon nanotube reinforced polymer (CNRP). A material which impregnates carbon nanofillaments into epoxy along with carbon matting for added rigidity and toughness, making it stronger and lighter than regular carbon fibre or kevlar.

The powertrain is a hybrid setup which consists of a turbocharged and supercharged 2.7 litre diesel V8, combined with a gearbox-mounted electric motor. The system employs a kinetic energy recovery system (KERS) in the form of regenerative braking systems, and magnetic shock absorbers which convert suspension movement and vibration into electrical energy.


| | |
| --- | --- |
| Make | Jaguar |
| Model | XJR-19 LMP1 |
| Concept Year | 2020 |
| Engine / Drivetrain | hybrid, diesel V8 and electric motor |