Lincoln Continental Concept



The Lincoln Continental Concept was a preview of a 2016 production model. The design of the concept marks a turning point in the company's styling language, and is one of the more eye-catching creations to emerge from Lincoln in years.

The 2015 Lincoln Continental Concept is designed to to appear elegant, powerful and serene (Lincoln's words). It's a fairly conventional looking large sedan in terms of proportions and layout, but the details and the subtle bulging wheel arches give it an air of quality and presence. It looks a bit Bentley-ish from some angles, and last-generation Audi A8-ish from others. But not close enough to either to be considered unoriginal.

As well as previewing the styling of the production Lincoln Continental, the concept also showcased some of the latest gadgets and technology developed by Lincoln. For example, the E-Latch door handles, which tuck discreetly in the clean vehicle beltline. With this system the doors open effortlessly with the touch of a button positioned on the underside of the door handle wings and close quietly. In addition the car features full-width tail lamps feature advanced light-through-chrome technology. Powerful LED matrix head lamps with laser-assist high beams reduce glare and improve visibility.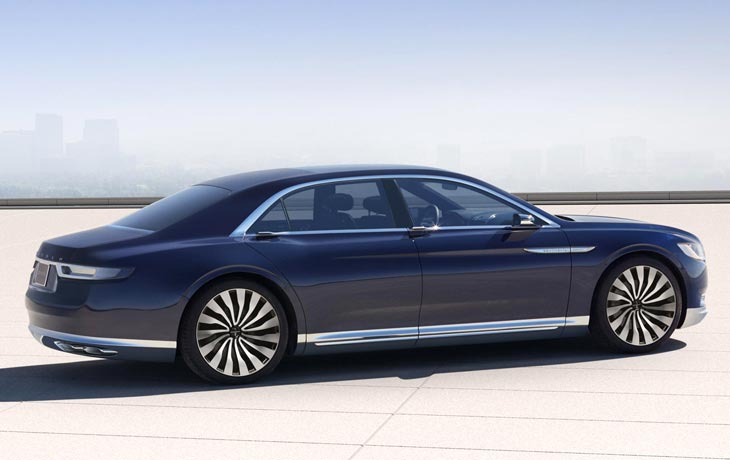 On the inside the Lincoln Continental Concept features luxury Venetian leather seats and door panels, which is matched with Alcantara suede seat inserts and arm rests. Above is a satin headliner, while below is a wool carpet. For an added touch of elegance there is rose gold trim around the instrument cluster.

Ambient lighting enhances the interior, creating a serene environment. Soft-gold LED lights glow from the center console and from the halo light overhead.

Patented 30-way Lincoln-designed seats use a new-to-market design that conforms to passengers' sizes and shapes. The passenger-side rear seat can fully recline by moving the front passenger seat forward with the touch of a button.

From a panel mounted on the through-center console, rear passengers also can control climate settings and the Revel Ultima audio system, which allows passengers to select from three surround-sound modes: Stereo, Audience and On-Stage.

Powering the Lincoln Continental concept is a turbocharged 3.0 litre V6 engine. The car also features Lincoln Drive Control ride-enhancing systems and Adaptive Steering.



| | |
| --- | --- |
| Make | Lincoln |
| Model | Continental |
| Concept Year | 2015 |
| Engine / Drivetrain | 3.0 litre turbocharged V6 |