Mazda RX-VISION



The Mazda RX-VISION is a stunning looking sports car concept which is the spiritual successor to the iconic and equally good-looking Mazda RX-7. It's got all the right ingredients for it too. Rotary engine mounted up front, rear-wheel drive, and a curvaceous, sleek body.

The Mazda RX-VISION's size makes it shorter, wider and lower than the last Rotary powered model from Mazda, the RX-8. It sits on large 20-inch wheels wrapped in low profile rubber and stuffed under the pumped-up wheel arches. Up front is the latest iteration of Mazda's squashed hexagonal grille, flanked by slit-like LED headlights.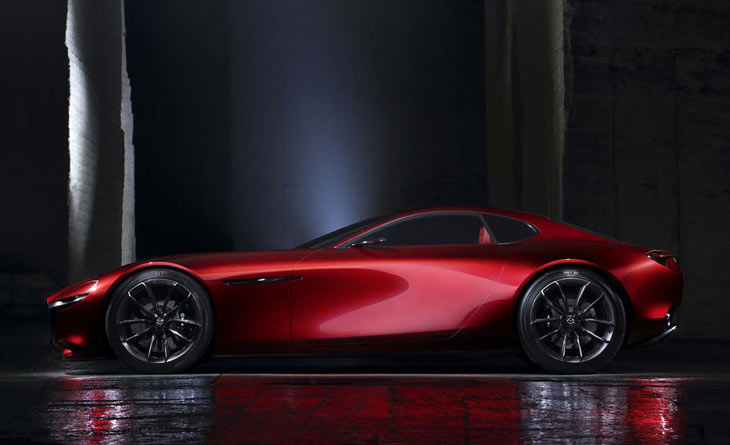 Complementing the simple yet stylish exterior design, the interior of the RX-VISION concept is also simple and straightforward in design. There is a set of analogue gauges set behind a rather conventional looking three-spoke steering wheel. There is a manual transmission with a simple brushed aluminium knob set into a wide center console with just a hint of carbon fiber trim. All in all the pared-back interior is a welcome break from the overly complicated interiors of most modern concept cars. Which are usually fitted with multiple touchscreens, digital displays, and more gadgets than any normal person should ever need.

Powering the Mazda RX-VISION concept is a next-generation SKYACTIV-R rotary engine (there's no mention of displacement or power output) mated to a manual transmission.

While Mazda haven't specifically said the RX-VISION is the new RX-7, they have said it is a "vision of the future". Not exactly a concrete guarantee of production. But then again, when the RX-Evolv concept came out in 1999, nobody said for definite it was going to turn into the production RX-8 shortly after.



| | |
| --- | --- |
| Make | Mazda |
| Model | RX-VISION |
| Concept Year | 2015 |
| Engine / Drivetrain | Rotary Engine, manual transmission |