Nissan GRIPZ



The Nissan GRIPZ is a concept vehicle designed to blend a modicum of off-road capability, with chic modern styling. Depending on how you look at it, Nissan have either failed in both aspects, or succeeded.

First off, despite its raised ride height, those almost-slick low profile tires which neatly hug the contours of the wheel arches would be next to useless on anything other than a race track smooth road - making its claim to be an a vehicle for adventurous types flimsy at best. And secondly, the coupe-like styling of the GRIPZ look a bit over-worked to be stylish - there's far to much going on with that body to make it look attractive.

On the other hand however, some will be drawn to the off-road inspired look (even if it is just a 'look'), and might appreciate something a little different to the average sports coupe. The raised body makes it slightly more practical, although the sloping roofline and small cargo area are anything but practical. It really is a vehicle for a very niche type of buyer.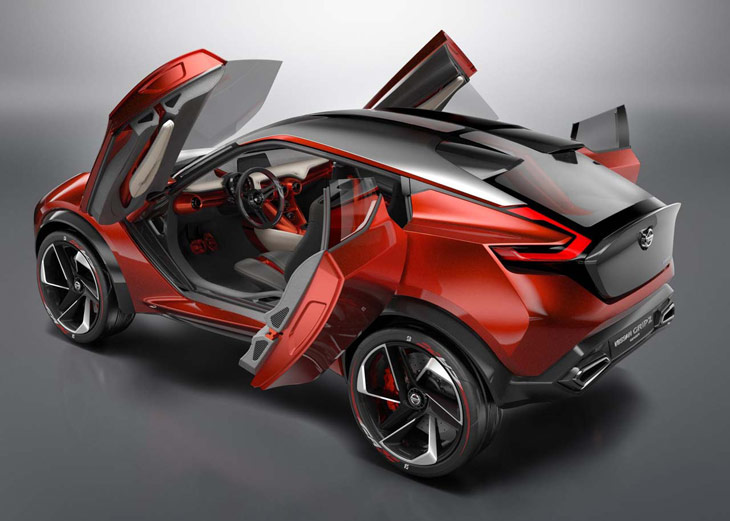 The styling of the Nissan GRIPZ was inspired by the iconic Safari Rally-winning Nissan 240Z. In the 1970s these sports cars were re-engineered using expertise gathered from Nissan's 4x4 range to cope with the demanding conditions of the Baja Peninsula, the open plains of Kenya, Uganda and present day Tanzania. These rally racers featured a raised ride height, toughened suspension and sported a matt-black finish for the bonnet and trunk set against a deep red-orange body color.

Powering the Nissan GRIPZ is a hybrid system dubbed 'Pure Drive e-Power'. An efficient gasoline engine is used to power the same electric motor unit found in the Nissan LEAF.

As well as being a funky concept car, the Nissan GRIPZ is also a glimpse of a possible future production compact crossover vehicle.



| | |
| --- | --- |
| Make | Nissan |
| Model | GRIPZ |
| Concept Year | 2015 |
| Engine / Drivetrain | Hybrid, Electric / Gasoline |