Renault 8 Gordini Concept



The original Renault 8 Gordini, introduced in 1964, was a high-performance version of the humble Renault 8 family car. It was instantly distinguishable from its more mundane counterpart by its unique blue paintwork and accompanying white stripes.

The new Renault 8 Gordini carries the same iconic colors, but in what looks like a significantly more entertaining package. Unlike the original, which only came as a four-door car, the concept only comes as a sportier-looking two-door.

Just like the '60s car, the Renault 8 Gordini concept features additional driving lights inset into the front grille and also rides on sporty lowered suspension.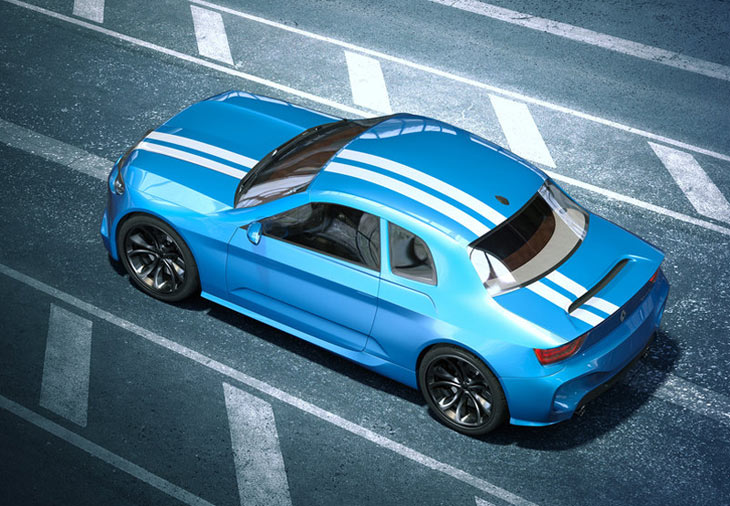 Also just like the original, the concept's designer Andrus Ciprian, has envisaged a rear-mounted engine for the concept. It certainly looks like there would be just enough space back there for a well-packaged small displacement turbocharged 4-cylinder.

Two different versions of the Renault 8 Gordini concept have been developed. The two models are virtually identical except for a different roof design. One features individual B and C-pillars, while the other is a more unusual design with wide dark-colored B-pillar fitted with a central glass panel.

Overall, both versions of the concept make very attractive propositions. Either one (or both) could inject a good deal of entry-level affordable fun into the French manufacturer's lineup.



| | |
| --- | --- |
| Make | Renault |
| Model | 8 Gordini |
| Concept Year | 2015 |
| Engine / Drivetrain | - |