Skoda VisionS



The Skoda VisionS is a design proposal for a future Skoda SUV. In addition to showcasing an all new vehicle for the company, the VisionS also shows off a new iteration of Skoda styling, one which is a little more angular and aggressive.

Skoda say the VisionS' styling was inspired by Czech Cubism and traditional Bohemian crystal art, which I think clears that up for everyone. In less pretentious language, that means its got sharp, clean lines and lots of angles.

Based on the Volkswagen Group's Modular Transverse Matrix (MQB), this is Skoda's first vehicle to feature six seats arranged across three rows.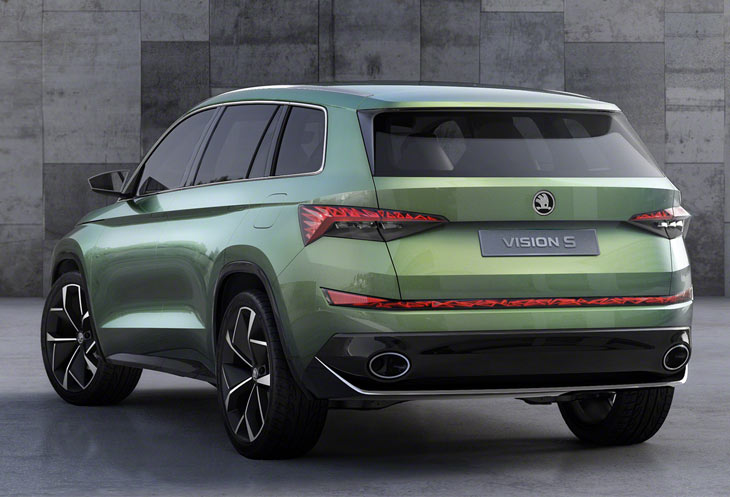 Powering the Skoda VisionS is plug-in rechargable hybrid drivetrain which consists of a 156 horsepower, 1.4 litre turbocharged gasoline engine working in conjunction with a 400 kW electric motor integrated within the six-speed DSG transmision to send power to the fron wheels. A second, more powerful (85 kW) electric motor transfers its power to the rear wheels. This motor operates independently of the front axle drive, meaning the concept has a smart four-wheel drive system, which requires no mechanical coupling.

The three drive systems cooperate in a highly flexible manner: The driver can choose between several modes of operation - from purely electric drive to internal combustion / recharge modes. The lithium-ion battery with a 12.4kWh capacity is positioned towards the middle of the vehicle ahead of the rear axle.


| | |
| --- | --- |
| Make | Skoda |
| Model | VisionS |
| Concept Year | 2015 |
| Engine / Drivetrain | Plug-in rechargable hybrid |