SRT Tomahawk Vision Gran Turismo



The SRT Tomahawk Vision Gran Turismo is SRT's vision of a futuristic race car which can be put through its virtual paces in the Gran Turismo 6 video game.

The SRT Tomahawk is a single seat, hybrid powered vehicle which was designed and engineered by the SRT (Street and Racing Technology) team at Chrysler. SRT developed not one, but three versions of the car, the S, the GTS-R, and the top-spec X model.

The car's styling was developed from a sketch by Paul Hoste, the winner of a design competition setup by Dodge which asked for a futuristic interpretation of a high-performance vehicle.

The SRT Tomahawk features an abundance of active aerodynamics designed to provide the perfect balance of downforce and low drag for all situations. Graphene has been used extensively to reduce weight while maintaining a high level of strength and rigidity.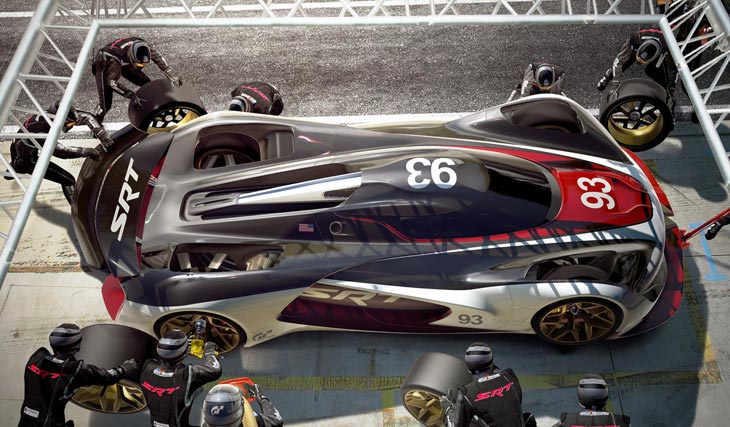 The overall weight of the SRT Tomahawk Vision Gran Turismo (in the digital world) is a mere 752 kgs (1,658 lbs) - for the range-topping Tomahawk X model anyway.

Powering the concept is a hybrid drivetrain which uses a 2,168 horsepower 7.0 litre V10 to drive the rear wheels, and two 211 horsepower pneumatic motors to drive each of the front wheels. With a total output of 2,590 horsepower the performance numbers for the SRT Tomahawk should be earth shattering.



| | |
| --- | --- |
| Make | SRT |
| Model | Tomahawk Vision Gran Turismo |
| Concept Year | 2015 |
| Engine / Drivetrain | Hybrid, 7.0 litre V10 + Pneumatic motors |