Tesla Allterrain



The Tesla Allterrain concept is a proposal for a rugged, go-anywhere 4x4 with an all-electric drivetrain. The concept was designed with both the modern-day Jeep Wrangler and Toyota FJ Cruiser in mind, and the Allterrain has similar proportions to both, being slightly larger than the Wrangler, but slightly smaller than the FJ Cruiser.

The styling of the Tesla Allterrain is fairly radical. The flat floorplan, with the motor just under the floor, and one motor at either end - each powering two wheels - allows for more options when it comes to internal layout. Up front, the main cargo area acts as storage for the full-size spare - freeing up space at the rear of the vehicle.

The versatile four-seater cabin uses sliding C-pillars so the rear seat passengers can either sit out in the open under a T-bar roof, or enclosed within the cabin protected by a stretchable, semi-transparent fabric roof and windows.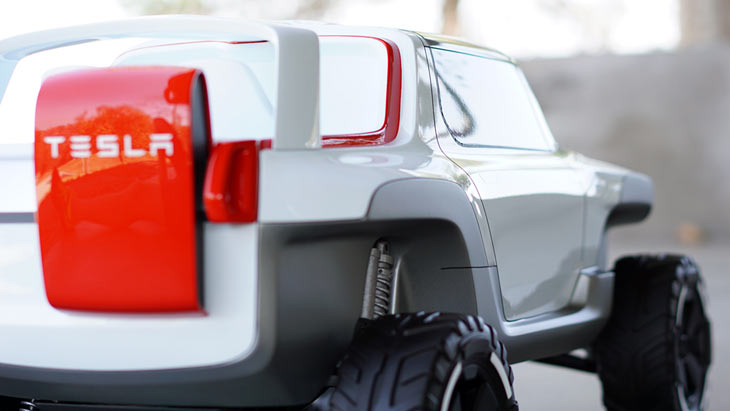 Powering the Tesla Allterrain concept are two motors supplied power by a 70kWh battery. The estimated standard range is 220 miles, with a top speed of 120 mph.

Of course any fully electric off-road vehicle is going to be a serious design challenge. Battery range is a worry for many electric car owners even in built up areas, so when you're in the middle of nowhere it's an even bigger issue. To address this problem the Tesla Allterrain uses a clever idea poached from one of the most basic of off-road equipment, the humble Jerry can. At the rear of the concept a custom designed rail is designed to carry up to two external battery packs intended to extend the range in the event the main batteries run out. This system is called the Tesla Battery Backpack.

The Tesla Allterrain concept was developed by Santa Monica, California based designed Jason McGinnity as a sponsored thesis project while working at Tesla.



| | |
| --- | --- |
| Make | Tesla |
| Model | Allterrain |
| Concept Year | 2015 |
| Engine / Drivetrain | Electric, AWD |