Volkswagen BUDD-e



The Volkswagen BUDD-e is a futuristic, all-electric, concept designed to showcase a modular architecture specifically designed for electric-powered vehicles. Based around the new "Modular Electronic Toolkit", the BUDD-e features a 101 kWh battery hidden within the floor, an electric motor up front, and another in the rear.

The Volkswagen BUDD-e features a quick-charge system which allows the battery to be charged to 80 percent capacity in just 15 minutes. In addition to the electric drive system, the BUDD-e can also be used as a power source for other items, and is capable of acting as a controler for a smart home, or allowing interaction with a smart office setup.

Volkswagen say the BUDD-e was inspired by the classic and iconic VW vans from the past. Although that seems more like marketing blurb than reality, as there are few design features shared between the two. The VW Microbus concept from 2001 was much closer to the original in terms of design - and also better looking than the rather generic-looking BUDD-e.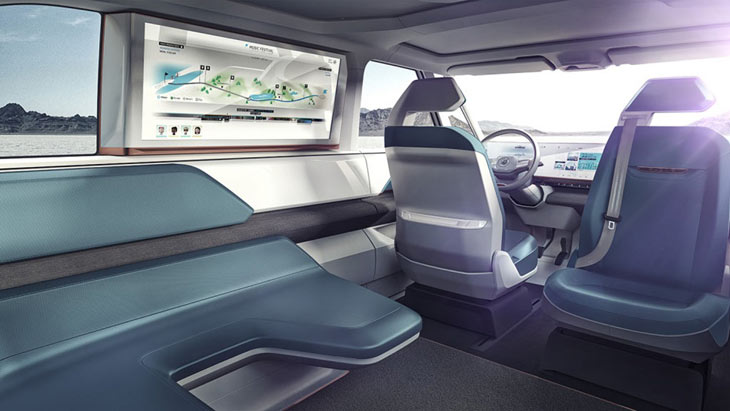 On the inside the Volkswagen BUDD-e looks like quite a nice way to travel. It's roomy, light, and filled with entertainment gadgets as well as technology designed to allow the occupants to interact with either a smart home or office.

With the BUDD-e's interface design, Volkswagen eliminates the traditional distinction between the electronic instrument cluster in front of the driver and the center console infotainment system.

All of the vehicle's systems are operated intuitively by gesture control, touchscreen (displays and touch slider) or voice control. The driver can choose between various intuitive control modes (multi-modal interaction). For example, a simple "Hello BUDD-e" activates the vehicle's voice control. The system also offers completely natural speech interaction. For example, if the driver asks "turn the heat up a bit, please", the car will respond immediately and appropriately. The system is also able to locate the passenger giving the commands, and react accordingly. If, for instance, someone sitting in the left rear seat says "It's too hot here", BUDD-e can immediately lower the temperature in that passenger's zone.



| | |
| --- | --- |
| Make | Volkswagen |
| Model | BUDD-e |
| Concept Year | 2015 |
| Engine / Drivetrain | Electric, AWD |