Volkswagen Golf GTE Sport



The Volkswagen Golf GTE Sport was presented for the first time at the 2015 Worthersee Festival. The car is a fanciful take on what high performance Golf models could look like in the future. Although VW officials say only the front end (basically the headlights and grille assembly) has any real chance of making the transition to a production model.

The Volkswagen Golf GTE Sport features a futuristic, sharply angled body with plenty of razor sharp lines. Those lateral air intakes just ahead of the rear wheels are also a standout feature of the concept, as is the vented hood and low roofline. The bodywork is primarily composed of carbon fiber and the aero kit fitted to the car is designed to maximize downforce.

Entry to the two-seat Golf GTE Concept is via upward swinging doors. The interior is filled with carbon fiber and Alcantara, with a high central spine separating the driver and passenger zones. Both seats are rather uncomfortable-looking racing bucket seats, and each is fitted with a 5-point harness. The steering wheel is a yoke-style unit, and behind that is a set three of state-of-the-art semitransparent displays layered on top of each other.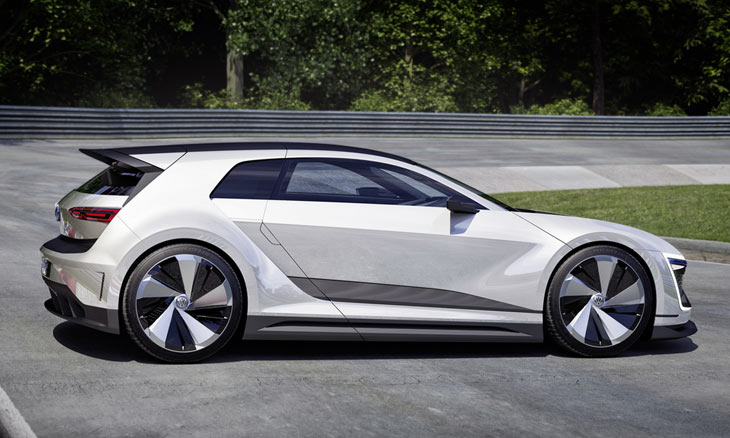 The drivetrain of the VW Golf GTE Sport is a hybrid setup, with a 1.6 litre turbocharged engine providing 300 horsepower and 295 lb-ft of torque, backed up by a pair of electric motors. One electric motor is housed within the 6-speed dual-clutch gearbox, while the other sits towards the rear of the car. Each electric motor provides and additional 115 horsepower, bringing the total up to an impressive 550 horsepower, and 550 lb-ft of torque.


| | |
| --- | --- |
| Make | Volkswagen |
| Model | Golf GTE Sport |
| Concept Year | 2015 |
| Engine / Drivetrain | hybrid, 1.6 liter engine / electric motor, AWD |