Arriero ATV Concept



The Arriero is a rugged ATV concept designed to work in the demanding and mountainous terrain of the Andes in South America. The vehicle is designed to act like a modern day mule, carrying cargo and crops from the small family run farms to the marketplace.

The Spanish name 'Arriero' (someone who drives mules) is taken for the name given to the men who normally transport the produce from the hills to the population centers where it is sold.

While the Arriero concept is radical an unusual in its design, it has also been engineered to be simple and robust. As well as being versatile enough to provide a variety of uses.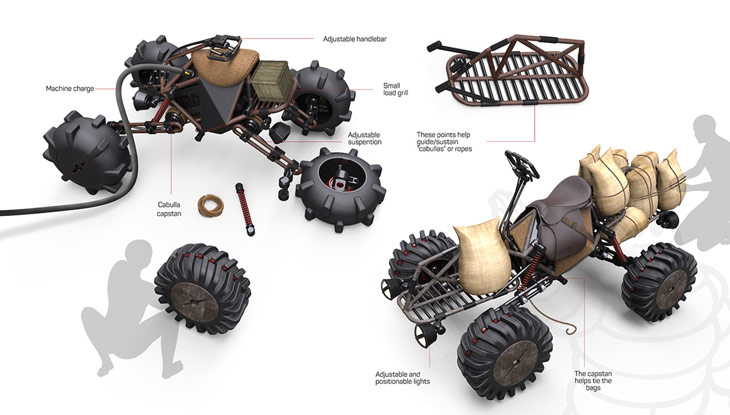 The electric powered vehicle was developed by the Colombian designer Eddie Mauro, and the concept was entered into the Michelin Challenge Design competition where it won second place.

Central to the Arriero concept's ability to cope with a variety of terrain is the vehicles highly adaptive suspension system and two-part wheels - which are airless and impervious to puncture. The vehicle also uses four independent in-wheel motors to provide traction for all four wheel. Adjustable racks at the front and rear of the Arriero are capable of carrying a variety of different sized cargos.

While the concept is an intriguing and inventive take on the quad bike / ATV platform. The 100 percent electric drivetrain, with its limited range, might prove to be a liability in the remote areas of the South American countryside where recharging options are limited.