fUCI concept bike by Specialized



The reason why competitive racing bicycles look more or less the same is due to an organization called the Union Cycliste Internationale (UCI). Their rules on bicyle design are very strict, meaning that the basic shape and form of the bicycle is quite limited. Some say this helps level the playing field by preventing some racers from having the technological advantange, while others say it hinders the development of better bicycles.

Bicycle manufacturer Specialized's creative director, Robert Egger, is clearly frustrated by the limits placed on his creativity. But he's found a way to release that tension by creating a concept bicycle called the fUCI. It's fairly clear what the 'f' stands for...

The fUCI (or Eff You See Eye as it's also known) was designed to break all the rules laid down by the UCI. The bike has a fairing, unconventional frame design, different sized front and rear wheels, and a very small in-built electric motor - although in this case it's mainly used when first setting off to build up initial speed. All these changes are directly in contrast to UCI rules.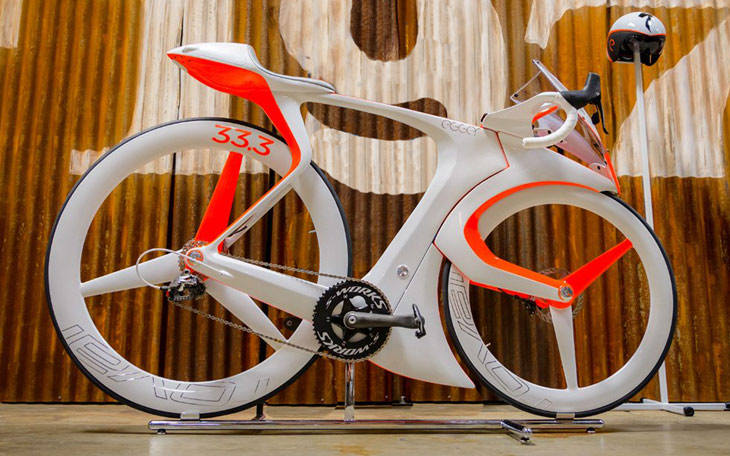 In addition to the streamlined, high-performance design, the Specialized fUCI also features a docking station for a smartphone which acts as a dashboard. It can be used for navigation, monitoring tire pressure, and controling the built-in lights.

One of the more practical features of the fUCI is a small storage area just behind the rear seat. It only really has usable space for a wallet and keys, but at least it's something.

"The UCI really caters to a very small population, but there's so many other people out there who couldn't care less about the UCI," says Egger. "They don't follow the racing and they don't even know all the limitations that are put on bikes for the UCI riders. So, my feeling was let's design a bike for someone who really just wants to go fast on a road bike."