Zephyr Streamliner Train



The Zephyr Streamliner trains were built by the Budd Company during the 1930s for the Chicago, Burlington and Quincy Railroad company.

The dramatic looking trains were built using large amounts of stainless steel and a newly developed form of spot welding called shotwelding to join the panels. The trains were diesel powered, and shortly after their introduction in 1934 one set a speed record between Denver, Colorado and Chicago, Illinois. During the marathon 13 hour 5 minute run, the train hit 112.5 mph - just short of the 115 mph US land speed record of the time - and gave the train its nickname "The Silver Streak".

The Zephyr was lighter than contemporary trains, partly to do with the stainless steel construction, but also because of the passenger cars shared the trucks underneath with the adjacent cars, this reduced the number of trucks needed, and also did away with the need for couplers to join the cars. One downside of this system was the fact it was not easy to add or remove cars to the train.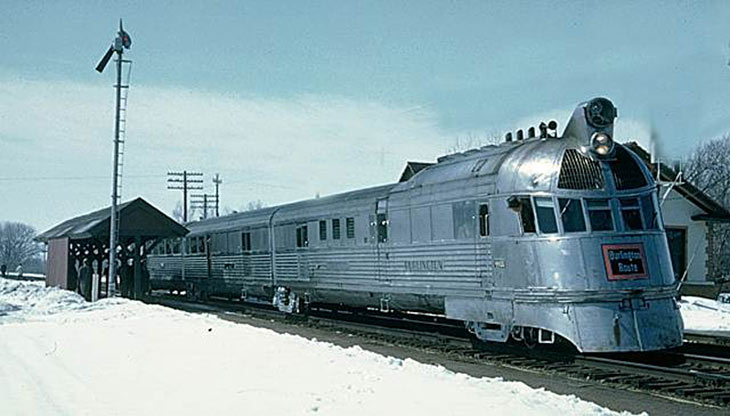 The Zephyr was powered by a 600 horsepower 8-cylinder engine which acted as a generator to power electrical motors which in turn powered the train. The driver sat in a small compartment in the nose of the train.

The rest of the train's carriages consisted of a combination of post office facilites, a baggage section, a small buffet and passenger seating. The rear car had an observation area with 12 seats and large panoramic windows. The standard trains could carry 72 passengers as well as 50,000 lbs of freight and baggage.

Several Zephyr trains still exist in museums and collections across America.