Abarth 124 Spider



The Abarth 124 Spider is the (even) sportier version of the Fiat 124 Spyder. Fiat's in-house fettlers of performance have tweaked the car with the help of the Abarth Racing Team.

The Abarth 124 Spider features an array of enhancements, including upgrades to the aerodynamics, drivetrain, chassis and styling. Much of the weight is concentrated between the axles and the engine is installed behind the front axle to guarantee agility and superior driving feel. Sophisticated mechanicals and the use of special materials have contained the weight to just 2335 lbs (1,060 kg), which results in a weight-to-power ratio of 6.2 kg/HP, the best in its category, and perfect 50/50 weight distribution, which results in great agility and performance.

The chassis of the Abarth 124 Spider has been improved with the addition of new Bilstein dampers, bigger anti-roll bars, a recalibration of the double wishbone front suspension and the five-link rear suspension, and a set of Brembo brakes.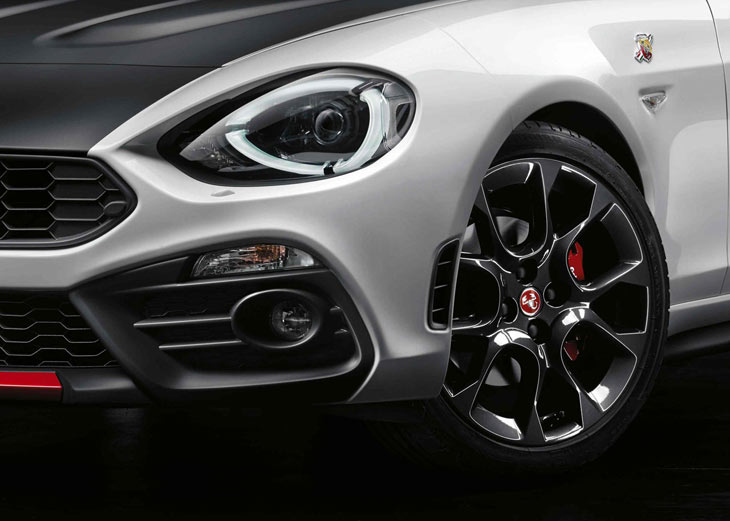 The engine is a turbocharged 1.4 litre 4-cylinder unit which provides 170 horsepower. It has a top speed of
143 mph, and 0-62 mph (100 km/h) time of 6.8 seconds. To give the engine a sportier voice, a Record Monza exhaust has been fitted as standard.

Two transmission choices are available, a six-speed manual, or a paddle-shift automatic with normal and sport modes.

Five body colours are available: special solid "Turini 1975 White " and "Costa Brava 1972 Red, metallic "Isola d'Elba 1974 Blue", "Portogallo 1974 Grey" and "San Marino 1972 Black". The nomenclature is a clear tribute to its prestigious success in rallying.

Each car is individually tested by an Abarth technician who certifies the car before fixing a metal plate showing the sequential build number of the car.


| | |
| --- | --- |
| Year (of specifications) | 2015 |
| Engine | 1.4 litre, turbocharged, 4-cylinder |
| Transmission | 6 speed, RWD |
| Max speed | 143 mph |
| 0-60 mph | 6.8 seconds |
| Horsepower | 170 horsepower |
| weight | 2335 lbs / 1060 kgs |