BMW M2



The BMW M2 is basically the replacement vehicle for the discontinued and instantly collectable BMW 1M Coupe. But thanks to BMW's new(ish) naming strategy, coupes and sports cars have evenly numbered titles, while four-door and luxury models have oddly named numeric titles. Hence the change from 1M to M2.

Like the 1M the new BMW M2 is like a distilled, purified and slightly more compact version of the iconic BMW M3 (or M4). It's based on the current 2 Series, but comes with an array of upgrades that elevate into a significantly higher performance category and level of desireablity.

The chassis of the BMW M2 has been enhanced thanks to a wider track - 2.8 inches at the front and 2.8 inches at the rear. There are plenty of new aluminium components integrated into the suspension design, and new MacPherson struts up front and a five-link rear suspension design at the rear. The steering system is a revised version of the electrically-assisted power steering system found in the standard car.

The brakes are more powerful too, with four-piston calipers at the front and two-piston calipers at the rear.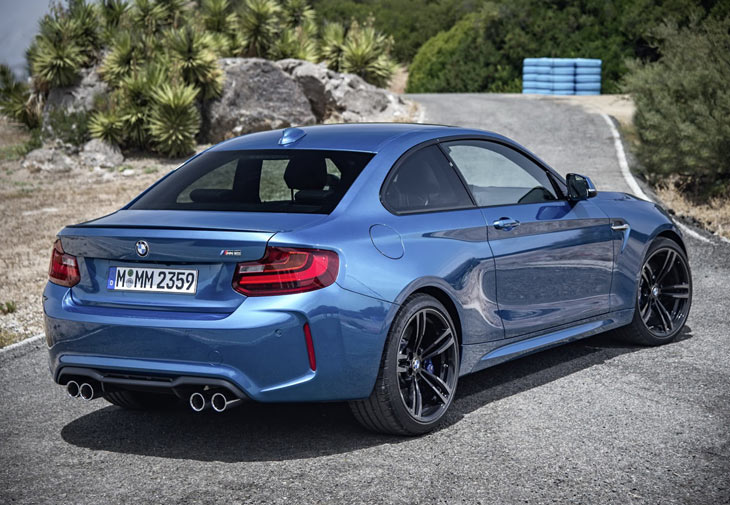 The bodywork of the BMW M2 has been pumped up too, partially to incorporate the wider wheel placement, and partly to improve airflow, both for cooling and downforce purposes.

Powering the BMW M2 is a turbocharged 3.0 liter straight-six cylinder engine which produces 365 horsepower and 343 lb-ft of torque. The standard transmission is a six-speed manual unit, while a seven-speed dual-clutch transmission with three driving modes is available as an option.

With the optional 7-speed transmission installed, the BMW M2 can reach 62 mph (100 km/h) from a standing start in just 4.3 seconds. The manual is just 0.2 seconds slower. The top speed of both versions is an electronically limited 155 mph.

Prices for the BMW M2 start at around $55,000 in the US and £44,000 in the UK.


| | |
| --- | --- |
| Year (of specifications) | 2015 |
| Engine | 3.0 litre straight-6 turbocharged |
| Transmission | 6 speed manual or 7-speed sequential, RWD |
| Max speed | 155 mph |
| 0-60 mph | 4.3 seconds |
| Horsepower | 365 horsepower |
| weight | 1,565 kgs / 3,450 lbs |