Ferrari 488 GTB



The Ferrari 458 Italia's replacement is this, the Ferrari 488 GTB. The 488 GTB carries on the tradition of mid-engined V8-powered supercars which has been a continuous staple of the Ferrari lineup for 40 years. The car also carries the iconic GTB badge (which is short for Gran Turismo Berlinetta) and was last used on the 599 GTB.

Powering the 488 GTB is a new, twin-turbocharged V8, paired with a seven-speed dual-clutch auto box. Ferrari says the 488 will lap its Fiorano test track in just 1 minute 23 seconds - two seconds faster than the 458, and half a second quicker than the track-focused Speciale.

The 488 GTB's engine displaces 3.9 liters and produces a peak output of 660 horsepower @ 8,000 rpm and 560 pound-feet of torque @ 3,000 rpm. By comparison, the most potent variant of the 458's naturally-aspirated 4.5 liter V8 (used in the 458 Speciale) produced 597 hp @ 9,000 rpm and just 398 lb-ft of torque at 6,000 rpm.

In terms of performance the Ferrari 488 GTB will accelerate to 62 mph from rest in 3.0 seconds and hit a top speed in excess of 205 mph.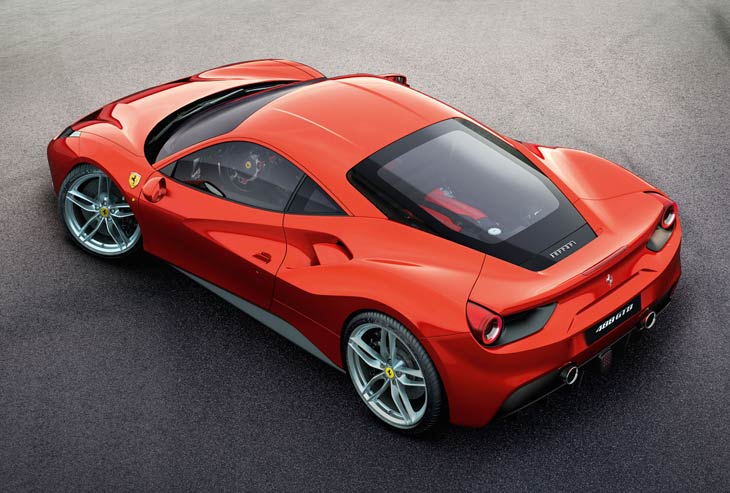 From the front, the design influence of the LaFerrari supercar is obvious. The headlamps are almost identical and there are similar style lines on the hood. While the front bumper is basically one huge air duct, split in half down the centre.

Details like these, plus a revised under-tray with vortex generators, give the car a remarkable coefficient of drag of just 1.67 despite offering twice the downforce of its predecessor.

The chassis of the Ferrari 488 GTB benefits from technical expertise carried over from the company's specialist client-based XX program. The seven-speed dual-clutch transmission now features a Variable Torque Management system that controls the level of torque so that it is sent to the wheels smoothly and powerfully right across the rev range.

To further improve handling, Ferrari has added a number of electronic driving aids. These include an updated version of the side slip angle control system that debuted on the 458 Speciale. The new version, Side Slip Control 2 (SSC2) is more precise and less intrusive, providing greater longitudinal acceleration out of corners. This works together with existing systems like the F1-Trac traction and stability control, the E-Diff limited-slip differential, and active dampers.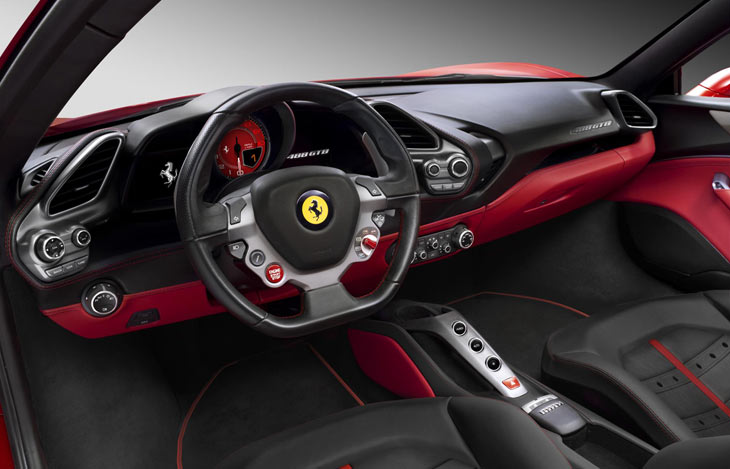 Inside the cockpit, the angled air vents and instrument panel are all centred around the driver. The usual multifunction steering wheel, bucket seats and top-quality dashboard are all present and correct. An upgraded infotainment system is also featured, and Ferrari's designers have tried to make the interior more user friendly, while also being comfortable and extremely sporty.

The final Ferrari 488 GTB price is yet to be confirmed. But it should command a significant premium over the $230,000 asking price of the 458 Italia.


Ferrari 488 GTB SPECIFICATIONS:


ENGINE

Type
Overall displacement
Maximum power
Maximum torque
V8 - 90° Turbo
3902 cm3
492 kW (670 CV) at 8000 rpm
760 Nm at 3000 rpm in VII gear
DIMENSIONS AND WEIGHT
Length
Width
Height
Dry weight
Weight distribution
4568 mm
1952 mm
1213 mm
1370 kg
46.5% Front – 53.5% Rear