Ferrari F12tdf



The Ferrari F12tdf is a high-performance, limited edition version of the Ferrari F12berlinetta. The awkward 'tdf' at the end of the name stands for "Tour de France" - although it has nothing to do with drugged-up men on expensive bicycles. Instead it is a hommage to the 1950s and '60s automotive endurance racing event of the same name. In particular it commemorates the 1956 250 GT Berlinetta which won four consecutive titles.

The Ferrari F12tdf has been enhanced in three main areas in comparison to the standard car. The engine, aerodynamics and chassis have all recieved attention.

The new aerodynamic package fitted to the car increases downforce significantly, and although there aren't any massive spoilers or ridiculously large intakes or vents, almost every panel of the F12tdf has been modified to some extent, resulting in an 87-percent increase in downforce.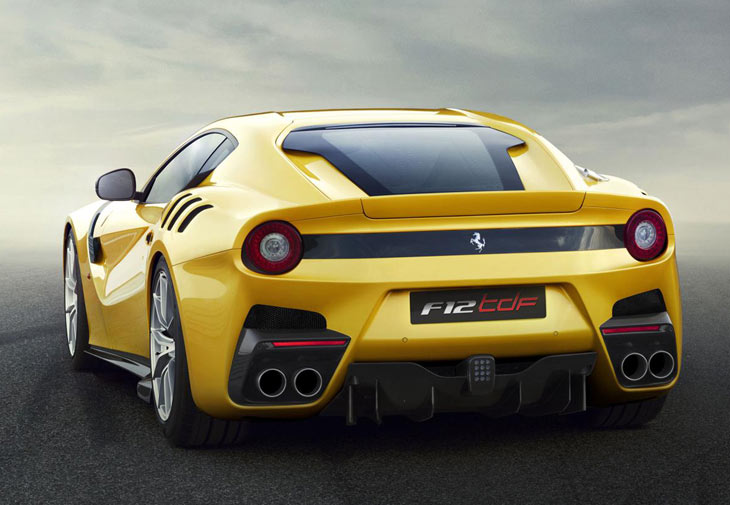 The front and rear track has also been increased, and the width ratio of the front and rear tires has also been increased. However the most significant change to the chassis, and indeed the whole car, is an innovative rear-wheel steering system which Ferrari calls Virtual Short Wheelbase.

Integrated with the F12tdf's vehicle dynamic control systems, Virtual Short Wheelbase guarantees the steering wheel response times and turn-in of a competition car while increasing stability at high speed.

The brakes have also been upgraded to a system derived from that found on the Ferrari LaFerrari, while the overall weight of the car has been reduced by a significant 110 kgs (242 lbs) thanks to a variety of carbon fiber components and a stripped back interior.

Power comes from a 6.3-liter naturally-aspirated V12 engine derived from the F12 Berlinetta. Modifications include race-inspired mechanical tappets and variable-geometry intake trumpets used on Formula 1 cars. The result is an engine which delivers 770hp, 40hp more than in the regular model. Maximum torque is 705Nm (520lb-ft) at 6,750 rpm (up from 690Nm), with 80 percent available from 2,500 rpm.

The F12tdf's engine is mated to a specific version of the F1 DCT with 6 percent shorter gear ratios that delivers 30 percent faster upshifts and 40 percent faster downshifts.

Naturally the Ferrari F12tdf's performance figures are pretty impressive. Top speed is in excess of 211 mph, while the 0-62 mph (100 km/h) takes a mere 2.9 seconds.



| | |
| --- | --- |
| Year (of specifications) | 2015 |
| Engine | 6.3 litre V12 |
| Transmission | 6 speed sequential, RWD |
| Max speed | 211 mph + |
| 0-60 mph | 2.9 seconds |
| Horsepower | 770 horsepower |
| weight | 1415 kgs |