Ferrari FXX K track car based on the LaFerrari



It was anticipated from moment the covers were first pulled back on the Ferrari LaFerrari, speculatively rendered at least once, but here it is for real. The Ferrari FXX K race car, the super-exclusive, track-only version of the LaFerrari.

The Ferrari FXX K takes the LaFerrari's styling to the extreme. From some angles it looks more like a fictional whacky racers machine, or something a Hot Wheels designer might come up with. The front of the FXX K gets a larger twin-level front spoiler and a massive air splitter which sits 30 mm lower than on the road car. The front end design was influenced by aerodynamic lessons learnt from Ferrari's race cars in the GT category. End plates on either side of the splitter channel air down the car's sides, creating a low pressure vortex which sucks turbulent air away from the wheels to reduce drag.

At the rear of the Ferrari FXX K, Ferrari's aerodynamic engineers have created a taller tail section, and also fitted a vertical fin and small spoiler to the end of each rear 1/4 panel. These small spoilers are designed to work with the main rear wing - which can be extended for more downforce, or retracted for a higher top speed. When the spoiler is retracted the small fins act as guide vanes for the air flowing around the car, and when the spoiler is extended they increase its efficiency by channeling air over it.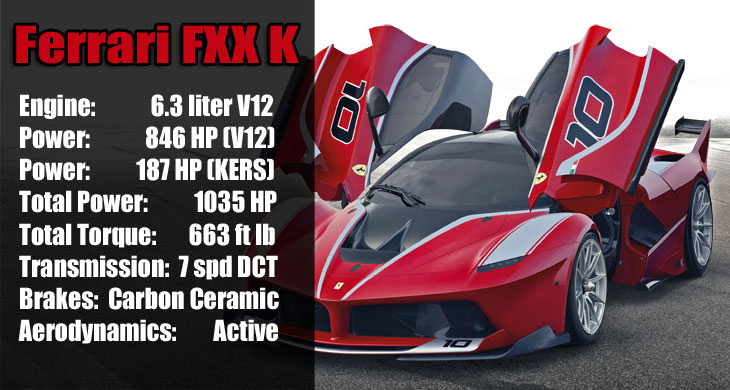 The underside of the car has its own airflow management system which has helped drastically improved downforce by up to 50 percent - depending on the car's aero setup.

Just like in the LaFerrari road car, powering the Ferrari FXX K is a hybrid setup - in fact the K stands for KERS (Kinetic Energy Recovery System). The 6.3 litre V12 provides most of the power, 846 horsepower @ 9,200 rpm, and 538 ft-lbs of torque @ 6,500 rpm. While a 187 horsepower electric motor provides the rest. The total power output of the system is 1,035 horsepower and 663 ft lbs of torque.

Internal modifications to the FXX K's engine over the standard road going unit include new camshafts and mechanical rather than hydraulic tappets. The intake manifolds have also been redesigned as well as polished for smoother air flow. The car also gets new exhausts and as it doesn't need to comply with street car regulations, the silencers have been removed.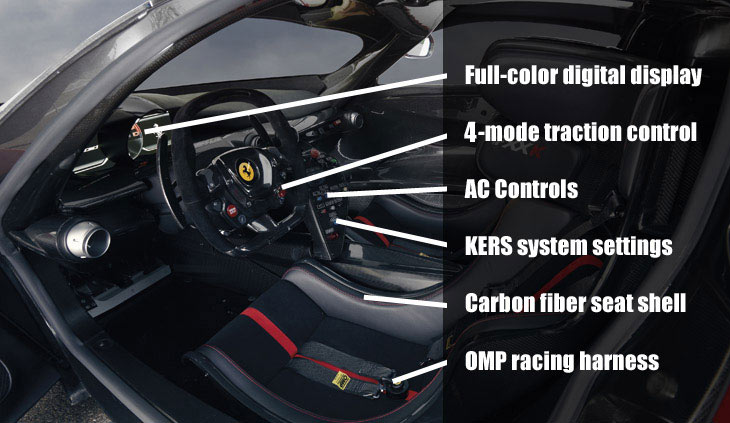 The interior of the car is filled with racing-specific modifications and a number of advanced driver aid systems. One of the more prominent is the 4-setting Manettino switch which adjusts the car for different requirements. Qualify, for maximum performance within a limited number of laps; Long Run to optimise performance consistency; Manual Boost for instant maximum torque delivery; and Fast Charge, for a fast recharge of the car's battery.

The intervention level of the E-Diff electronic differential, F1-Trac traction control, Racing SSC (Side Slip Angle Control) - now specially calibrated to suit the car's slick tires - and the high-performance ABS can be controlled using a switch on the steering wheel.

The price of the Ferrari FXX K? Roughly $3 Million USD - for that you get 2 years of Ferrari Racing support, after the two years are up you can buy in again for an undisclosed amount.

Ferrari currently plan on building just 40 cars.


Ferrari FXX K SPECIFICATIONS:


KERS system

| | |
| --- | --- |
| Total maximum power | 1035 HP |
| Total maximum torque | 663 ft-lbs (900 Nm) |
| V12 maximum power | 846 HP @ 9,200 rpm |
| Maximum revs | 9,250 rpm |
| V12 maximum torque | 750 Nm @ 6,500 rpm |
| Electric motor output | 140 Kw (187 HP) |
| | |
| --- | --- |
| Type | 65-deg. V12 |
| Bore and stroke | 94 x 75.2 mm |
| Total displacement | 6.3 liters (6262 cc) |
Dimensions
| | |
| --- | --- |
| Length | 4896 mm |
| Width | 2051 mm |
| Height | 1116 mm |
| Wheelbase | 2650 mm |
Gearbox
Suspension
| | |
| --- | --- |
| Front | double wishbones |
| Rear | multi-link |
Tires (Pirelli P-Zero slicks with sensors)
| | |
| --- | --- |
| Front | 285/650 – R19 x10.5 |
| Rear | 345/725 – R20x13 |
Carbon ceramic brakes (Brembo)
| | |
| --- | --- |
| Front | 398 x 223 x 36 mm |
| Rear | 380 x 253 x 34 mm |
Electronic controls
| | |
| --- | --- |
| ESC | stability control |
| High perf ABS/EBD | Performance anti-lock system/electronic brake balance |
| EF1-Trac | F1 electronic traction control integrated with the hybrid system |
| E-Diff 3 | third generation electronic differential |
| SCM-E Frs | magnetorheological damping with twin solenoids (Al-Ni tube) |
| Aerodynamics | active |