Lamborghini Aventador LP 750-4 Superveloce



The Lamborghini Aventador LP 750-4 Superveloce is lighter, more powerful and more dynamic version of the Aventador.

The car features the same 6.5 litre V12, but it has been enhanced with a new lightweight exhaust system and optimized variable valve timing and variable intake systems. In the Aventador Superveloce the engine now produces 750 horsepower @ 8,400 rpm, and 508 lb-ft of torque at a screaming 8,500 rpm.

The transmission system of the Aventador Superveloce is Lamborghini's ISR automated manual unit, which delivers power to all four wheels via a Haldex Generation IV electronically controlled coupling system. This system distributes torque between the front and rear axles, while a self-locking rear differential and an electronic differential lock at the front axle is controlled by the car's computer to keep it pointing in the right direction.

Visually the Lamborghini Aventador Superveloce is marked out from the standard car by a number of aerodynamic modifications. Most noticable is the large rear wing. This can be manually adjusted to three different positions to increase or decrease downforce. Complementing the rear wing is a more prominent rear diffuser designed to improve the air flow from underneath the car.

The front of the Superveloce features a redesign, comprising of a new two-piece grille with the lower portion made from carbon fiber. The car also features numerous smaller carbon fiber design elements dotted around the car. There are also the 'SV' logos just ahead of the rear wheels.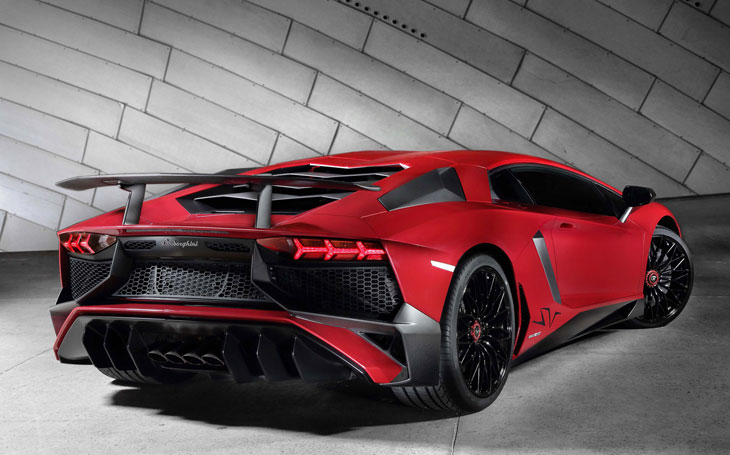 The interior of the Lamborghini Aventador LP 750-4 Superveloce is the first model to feature the company's 'Carbon Skin' material. This material is extremely lightweight, yet also flexible and robust. Using a unique resin, the woven carbon fiber fabric is extremely soft to the touch, yet very hard-wearing. The Superveloce's inner roof and parts of the cockpit are clad in this high-tech material. Exposed carbon fiber is used throughout the interior on numerous trim elements.

The instrument cluster is entirely new. The TFT screen is dominated by yellow hues, with an RPM shifting indicator in light blue, and a G-force indicator in the lower part of the cluster similar to racing cars.

The starting price for the Lamborghini Aventador LP 750-4 Superveloce in its native Italy is 327,190 Euros.



| | |
| --- | --- |
| Year (of specifications) | 2015 |
| Engine | 6.5 litre V12 |
| Transmission | AWD |
| Max speed | 217 mph |
| 0-60 mph | 2.8 seconds |
| Horsepower | 750 horsepower @ 8,400 rpm |
| weight | 1,522 kgs / 3,355 lbs |