Lotus 3-Eleven



The all-new Lotus 3-Eleven which was revealed at the 2015 Goodwood Festival of Speed is the quickest production Lotus road car ever produced.

The car is offered in two different versions, Road and Race, and both vehicles have been developed by Lotus' motorsport division. The 3-Eleven features a lightweight composite body which is wrapped tightly around the contours of the vehicle. The track potential of the 3-Eleven is apparent from every angle, from the large rear spoiler and x-brace roll-over protection, to the cut down windscreen and integrated racing tow hook.

Two front splitter configurations are available, depending on whether the car is configured for road or race use, and the front arches are wide enough to cover the car's wide track and the new 225/40 ZR18 tires. The Lotus 3-Eleven's front clam shell incorporates larger openings than on other models to deliver the necessary cooling airflow for the enhanced powertrain and transmission.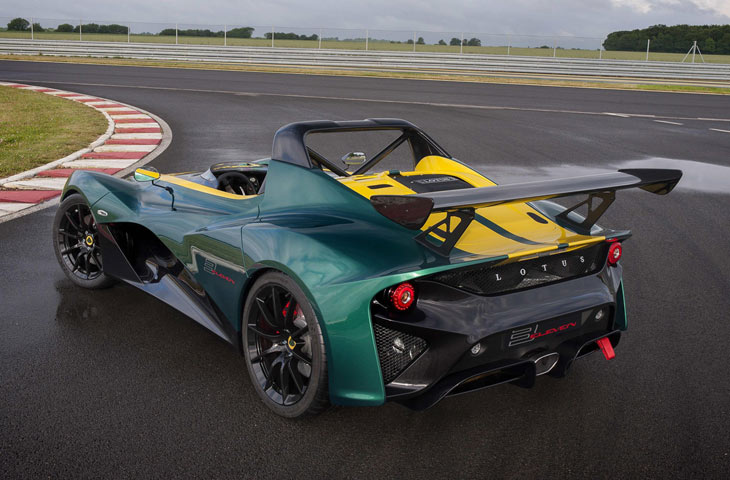 The engine chosen to power the new Lotus 3-Eleven is a supercharged 3.5 litre V6 (the same basic engine used in the Evora 400). However for the 3-Eleven Lotus' engineers have managed to coax 450 horsepower out of the unit. In the Road model, the engine is mated to a close-ratio six-speed manual gearbox which a torsen-type limited slip differential. In the Race version of the car, a paddle-shift 6-speed sequential transmission with a semi-dry sump and oil cooler is fitted as standard.

The extruded and bonded aluminium chassis of the Lotus 3-Eleven features lightweight double-wishbone suspension both front and rear, while the springs come from Eibach and the adjustable dampers are courtesty of Ohlins.

With a dry weight of below 1984 lbs (900 kg) (Race version), the 3-Eleven offers a power to weight ratio, in excess of 500 hp per tonne, and is capable of sprinting from 0-60 mph in less than 3.0 seconds before reaching a maximum speed of 174 mph (280 km/h) for the Race version, and 180 mph (290 km/h) for the Road version.

All that performance doesn't come cheap though. In fact the 3-Eleven is Lotus' most expensive series production road car yet. Only 311 examples will be built, and prices for the Road model start at £82,000 ($129,000), while the Race model comes in at £115,200 ($181,000).



| | |
| --- | --- |
| Year (of specifications) | 2015 |
| Engine | 3.5 litre V6 supercharged |
| Transmission | 6-speed, RWD |
| Max speed | - |
| 0-60 mph | 3.0 seconds |
| Horsepower | 450 horsepower |
| weight | 900 kgs (1,984 lbs) |