Audi Union 2017



Audi have a pretty broad portfolio of vehicles, ranging from compact hatchbacks and luxury sedans, up to large SUVs and V10 supercars. One thing they don't have however is a track-focused single-seat lightweight sports car. That's where the Audi Union 2017 concept comes in.

The Audi Union 2017 concept is a proposal for a stripped down, minimalist sports car. It looks like a cross between an open-wheel single-seat race car, a more refined Ariel Atom, and a modern-day hot rod. It features the neat, clean lines common to contemporary Audis, however the family resemblance is quite limited, and without the four-ringed badge it would be pretty hard to pin down the origins.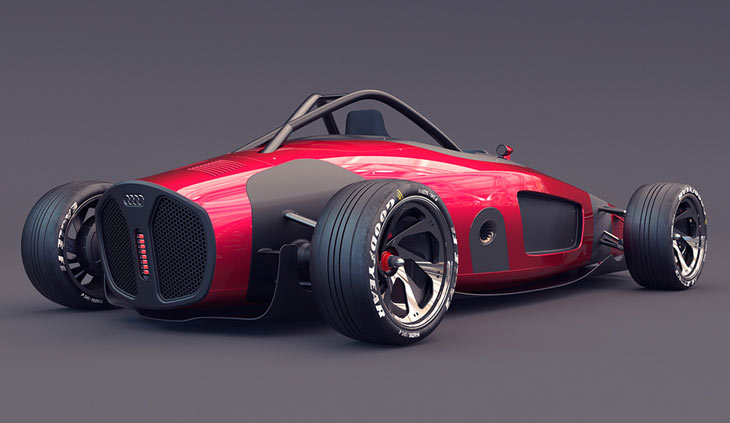 The concept's name recalls the famous record-breaking 1930s Auto Union racers of pre-war Germany. However the Audi Union 2017 shares little in terms of styling with the streamlined silver-painted Auto Union cars.

What is clear from the gorgeous renderings of the Audi Union 2017 Concept is the car's tubular spaceframe chassis. What's less obvious is the possible drivetrain, as it's designer Russia-based Burov Art has left it open to interpretation. The concept looks to employ a mid/rear mounted power source due to the relatively large lateral air intakes and minimal space up front. However the specifics are unclear, although the size of the car, and it's futuristic design would lend itself well to either a turbocharged 4-cylinder or even 100-percent electric drivetrain.



| | |
| --- | --- |
| Make | Audi |
| Model | Union 2017 |
| Concept Year | 2015 |
| Engine / Drivetrain | - |