Vauxhall GT Concept



The Vauxhall GT concept (or Opel GT if you're in continental Europe) is a futuristic proposal for a compact sports coupe. The design of the Vauxhall GT concept is clearly aimed at the more youthful end of the market, underscored by the fact it was revealed alongside BMX and skateboard riding models.

The concept is extremely streamlined, there aren't any door handles, door mirrors, or even side windows. It gives the appearance of being milled out of a solid chunk of metal.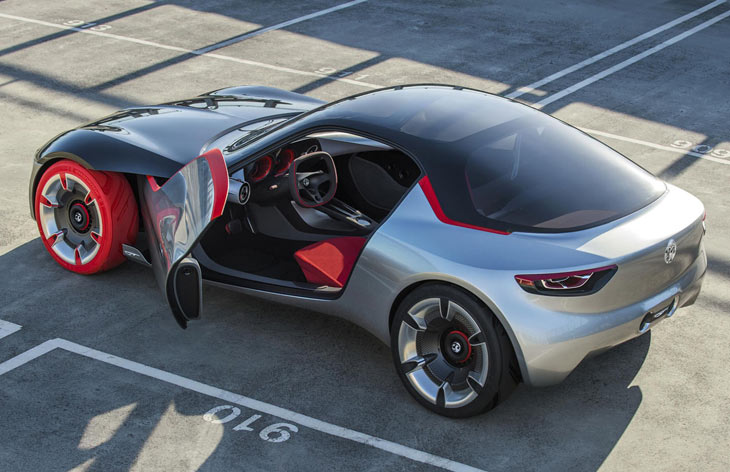 In addition to showcasing Vauxhall/Opel's latest styling philosophy, the GT concept also designed to commemorate two of the company's most significant show cars from the past; the 1966 Vauxhall XVR and the 1965 Opel Experimental GT - two of the very first concept vehicles to be produced by a European manufacturer. The concept is also a development of a more recent vehicle, the Opel Monza concept from 2013.

One of the most striking design features of the GT Concept is its large doors with integrated side windows that display a seamless transition from glass to painted surfaces. Both driver and passenger doors are opened by pressing a touchpad that is integrated into the red signature line of the roof. The doors cleverly open into the front arches, using a space-saving and patented mounting that allows a large opening angle for tight parking spaces in urban areas. Two cameras mounted behind the wheel arches offer enhanced visibility, especially in city driving. They transmit their images to two monitors on the left- and right-hand side of the cabin, rendering external mirrors obsolete.

Powering the Vauxhall GT concept is a frugal yet powerful 1.0-litre, three-cylinder turbocharged engine, based on the all-aluminium unit used in the ADAM, Corsa and Astra. Developing 145 horsepower, the engine delivers drive to the rear wheels, via a six-speed sequential transmission operated by steering-wheel mounted paddle shift. Weighing under 1000kgs (2200 lbs), the GT Concept accelerates from 0-62mph in less than eight seconds and on to a maximum speed of 134mph.




| | |
| --- | --- |
| Make | Vauxhall |
| Model | GT |
| Concept Year | 2015 |
| Engine / Drivetrain | 1.0 litre, three-cylinder, turbocharged engine |