Migaloo 'Kokomo Ailand' Floating Artificial Luxury Island



Motion code: blue is an Austrian superyacht design firm who also dabble in the design of other amazing and exclusive watercraft. Their Migaloo luxury submarine caused proverbial waves when it was unveiled in 2013, and their latest creation, the Migaloo Kokomo Ailand is equally jaw-dropping.

The Migaloo Kokomo Ailand is an artificial floating island which has been kitted out to act as a luxurious private retreat for water-loving billionaires. The structure looks somewhat like a oil rig in shape, four pylons lift the bulk of the platform out of the water supported on two underwater pontoons.

The extremely well equipped island features a heli-pad and mooring stations for boats allowing for a variety of ways on and off the structure. Visitors, as well as the owner of the island, have at their disposal a beach deck with entertainment pool and barbecue area, as well a garden zone with an outdoor dining are and a large central pool complete with waterfalls. There are also two beach clubs including a beach gym, an underwater dining salon, an outdoor cinema and stage area, and a shark feeding area (presumably for super villain owners). There is also a spa area with massage and beauty saloons.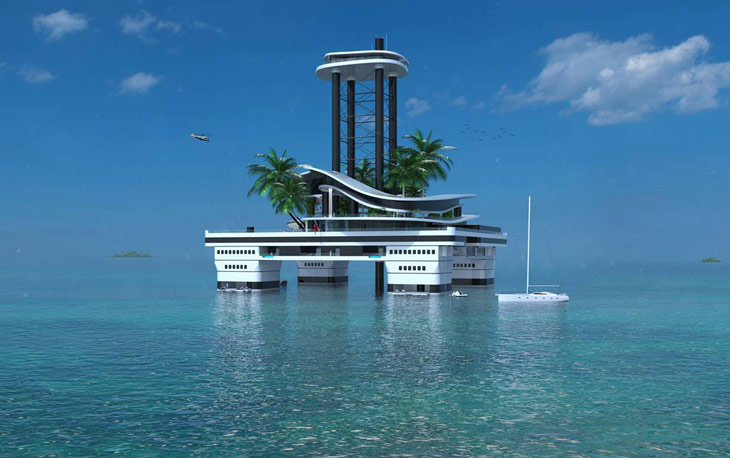 The Kokomo Ailand isn't the first artificial floating island proposed. Yacht Island Designs put forward an idea for a faux tropical island, complete with volcano and palm trees a few years ago. However Kokomo Ailand is certainly the biggest, with a length of 383 feet (117 meters), a width of 255 feet (78 meters), and a dramatic owners penthouse perched 262 feet (80 meters) above sea level. The owners quarters features two elevators and glass-bottomed jacuzzi.

Thanks to 8 independent aziopods, the artificial island is capable of speeds of up to 8 knots and can move in any direction.

Needless to say motion code: blue and their Migaloo submarine division don't mention anything about price.