Aston Martin Vulcan



The Aston Martin Vulcan is a track-only supercar which was designed using Aston Martin's motorsport experience. Only 24 will be built, and each will offer an enormous level of customization, allowing owners to set the car up to suit particular race tracks or driving styles.

The Aston Martin Vulcan, like the Ferrari FXX K and McLaren P1 GTR, is a hypercar which is confined to the race track. Aston Martin aren't making any concessions to make it road legal. Also like the the FXX K and the P1 GTR, Vulcan buyers will be treated to a special ownership program that includes exclusive track days, VIP training events with Le Mans-winning drivers and simulator experiences all designed to help hone driving skills.

The Aston Martin Vulcan is powered by a naturally-aspirated 7.0 litre V12 engine mounted in a mid-front position. This engine produces over 800 horsepower and was developed in conjunction with Aston Martin Racing. The transmission is a motorsport-derived Xtrack six-speed sequential unit which sends to power to the rear wheels. To help reduce weight the car uses a magnesium torque tube and carbon fiber propeller shafts.

Other highlights of the chassis include a carbon ceramic Brembo brakes, fully-adjustable pushrod suspension with anti-dive geometry and driver-adjustable anti-lock brakes and traction control.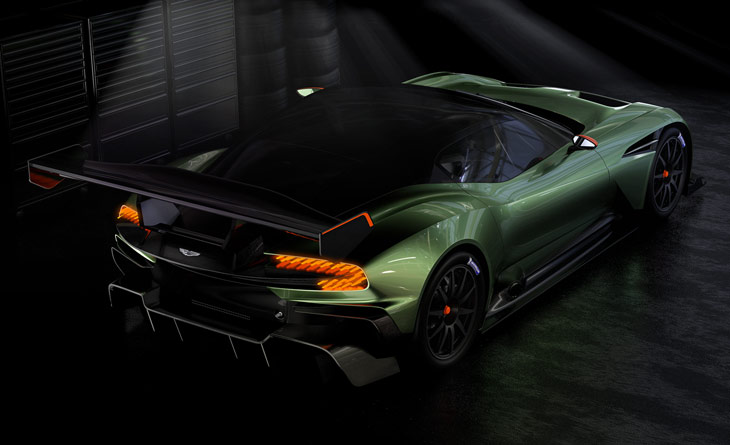 The Vulcan's styling was developed at Aston Martin's headquarters under the guidance of the company's Chief Creative Officer Marek Reichman. The car features a carbon fiber monocoque and body and is covered in aerodynamic aids from front to back.

The Aston Martin Vulcan complies with all relevant FIA race safety requirements.

Despite being a race car, the interior of the Aston Martin Vulcan is suprisingly well appointed. There is plenty of carbon fiber on show, and the minimal upholstery is almost all Alcantara suede. The instrument panel is a single multi-color display, and the steering wheel is a yoke-style multi-function unit.



| | |
| --- | --- |
| Year (of specifications) | 2015 |
| Engine | 7.0 litre V12 |
| Transmission | 6 speed sequential, RWD |
| Max speed | - |
| 0-60 mph | - |
| Horsepower | 800+ horsepower |
| weight | - |