Ferrari 488 Spider



The Ferrari 488 Spider is the open-top version of the 488 GTB, and currently the most powerful mid-engined retractable-hardtop V8 Ferrari available.

Powering the 488 Spider is the same 660 horsepower twin-turbocharged 3.9 litre V8 found in the 488 GTB, which is mated to a seven-speed dual-clutch auto box. The car can accelerate from 0-62 mph in 3.0 seconds, and has a top speed of 203 mph.

The folding hard-top of the 488 Spider is 25kg lighter than a comparable fabric roof, and takes 14 seconds to be raised or lowered. Overall the car is just 50 kgs (110 lbs) heavier than the coupe model.

The chassis of the 488 Spider has the same torsional rigidity as its fixed-roof sibling, thanks to eleven different aluminium alloys combined with other exotic metals like magnesium, whilst also being 23% stiffer than the 458 Spider it replaces.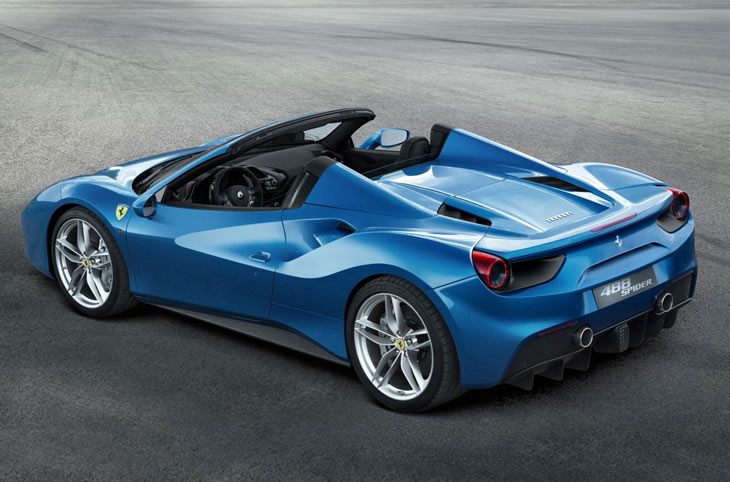 The electric powered rear glass window, which acts as a wind-stop, can be adjusted to three different positions to ensure the best possible comfort when driving with the roof down. It can also be fully retracted with the roof on, to allow the sound of the engine reach the cabin all the time.

To improve the car's dynamics, Ferrari's engineers honed the car's mechanical setup in tandem with its electronic systems which are now fully integrated with the SSC2 Side Slip Angle Control System, resulting in 12% faster acceleration out of corners than the 458 Spider.

Over all, response times are 9% faster than the previous Spider without any compromise whatsoever being made in comfort.


Ferrari 488 Spider SPECIFICATIONS:



| | |
| --- | --- |
| Year (of specifications) | 2015 |
| Engine | twin-turbocharged V8 |
| Transmission | RWD |
| Max speed | - |
| 0-60 mph | 3.0 seconds |
| Horsepower | 660 horsepower @ 8,000 rpm |
| weight | 1,420 kgs (3,131 lbs) |