Porsche 911 GT3 RS



The Porsche 911 GT3 RS has been around since 2004, when it was introduced on the 996 GT3 RS model. Since then it has established itself as one of the best track-focused, road legal sports cars money can buy, and for 2015 Porsche gave the world yet another version of the 911 GT3 RS.

The 991 version of the 911 GT3 RS features extensive upgrades over the already highly-tuned 911 GT3 model. Amazingly the car is now even quicker round the Nurburgring than the mighty Porsche Carrera GT, with a lap time of 7 minutes 20 seconds.

The 2015 911 GT3 RS is powered by a 4.0-litre six-cylinder engine with 500 horsepower and 340 ft-lbs of torque. The transmission is a specially developed PDK double-clutch unit. The engine, which has the largest displacement and most power of any naturally-aspirated engine in the 911 family, accelerates the car from 0 to 62 mph (100 km/h) in 3.3 seconds. The car's top speed is just shy of 200 mph, 198 mph to be exact.

Features such as de-clutching by the 'paddle neutral' facility - which is comparable to depressing the clutch with a conventional manual gearbox - and speed limiting by the 'Pit Speed' centre console button have been customised for motorsport use.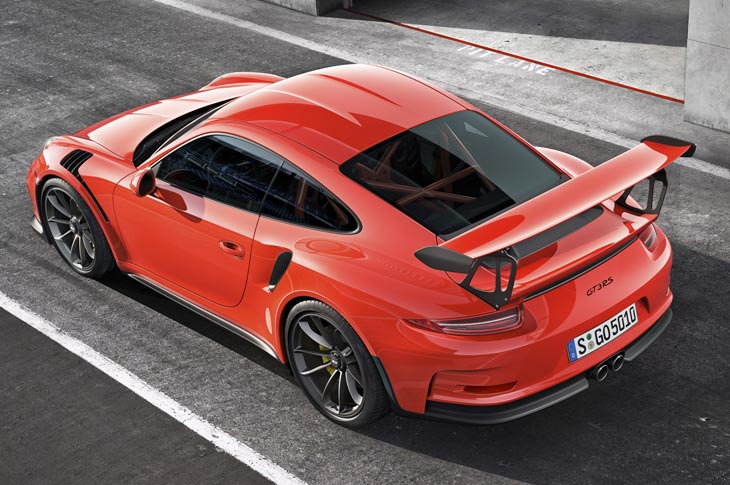 As well as increasing power and performance, Porsche's engineers have also worked hard to cut the 911 GT3 RS's weight and improve its dynamic ability. The roof panel is made of magnesium; carbon fibre is used for the engine and luggage compartment lids, and other lightweight components are made of alternative materials. This makes the RS model around 22 lbs (10 kg) lighter than the 911 GT3.

The distinctive, wide-arched bodyshell is derived from the 911 Turbo and features a number of RS-specific aerodynamic additions, including a new front lip spoiler, and large rear wing. The front luggage compartment lid features a unique contoured surface structure, a strip-like 30 cm wide recess which runs upwards through the middle of the CFRP bonnet and the magnesium roof.

Rear-axle steering and Porsche Torque Vectoring Plus with fully variable rear limited slip differential increase agility and dynamics, and the wider front and rear track widths enable even higher roll stability than in the 911 GT3.

In addition, the 911 GT3 RS features the widest tires of any factory-standard 911.

The interior of the 911 GT3 RS is equipped with carbon fibre seats which are based on those found in the 918 Spyder. Other standard features are the Club Sport Package with a bolted-in roll cage behind the front seats, preparation for a battery master switch, and a separately provided six-point safety harness for the driver and fire extinguisher with mounting bracket.

Prices for the 2015 911 GT3 RS start from $175,900 (£131,296 / 181,690 EUR).


| | |
| --- | --- |
| Year (of specifications) | 2015 |
| Engine | 4.0 litre straight 6 |
| Transmission | RWD |
| Max speed | 198 mph |
| 0-60 mph | 3.3 seconds |
| Horsepower | 500+ horsepower |
| weight | - |