Rolls-Royce Dawn



The Rolls Royce Dawn is a four-seat, super-luxurious convertible, and although It's based on the Wraith platform, Rolls-Royce is marketing it as an entirely seperate model.

The name 'Dawn' (first used back in 1952 when on the Silver Dawn drophead), shares only 20 percent of its body panels with the Wraith, while the aerodynamic and heavily insulated soft top roof makes the interior as quiet as the Wraith when up.

In the styling department the Dawn displays all the current hallmarks of Rolls-Royce. Big slab-like sides, massive wheels, simple uncluttered lines and that pesant-smashing rectangular grille wedged into the front.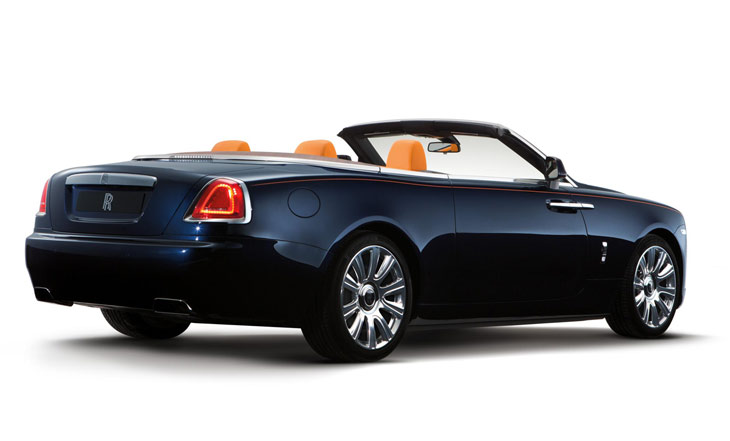 The interior of the Dawn is more or less identical to that of the Wraith. The vehicle is a full four seater and so there is no compromise in comfort wherever you sit. A wide center console splits the interior in two, while the wood trim on the centre console features a chevron pattern pointing forward providing an accelerated feel.

The instrument dials have also undergone subtle enhancements with individually applied polished metal chaplets around the dials evoking the precision design of hand-made, luxury wrist watches, whilst the matt chrome centres 'float' in the middle of each instrument. In addition, a new clock design featuring the new motor car's name has been introduced.

Powering the Rolls-Royce Dawn is a 6.6 litre V12 producing 563 horsepower and 575 lb-ft of torque.



| | |
| --- | --- |
| Year (of specifications) | 2015 |
| Engine | 6.6 litre V12 |
| Transmission | RWD |
| Max speed | - |
| 0-60 mph | - |
| Horsepower | 563 horsepower |
| weight | - |