Home > Car Design History - a brief overview




Throughout the decades of car design there have been many events and technological advances which have helped bring about major design trend changes. New technologies have made it possible for more complicated compound curves and forms of a cars body to be built at a much speedier rate, with more specific tolerances meaning a curvaceous body need not require 100s of man hours with a skilled craftsman. Advances in non-automotive technology and lifestyle have also had there impact on car design. During the 1950s the jet age had arrived spawning a whole host of memorable designs.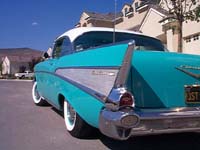 1957 Chevrolet Bel Air

The jet set lifestyle had captured the hearts of the American public and designers of the time leaped on the chance to exploit this fascination. Normally rather mundane family cars began to sprout wings, turbines, and after-burner tail lights. At first they were styling exercises, the 1955 Ford Thunderbird experimented with a wrap around wind shield, it also featured exhausts which exited through the rear valence and small turbines up front in the grill. The 1957 Chevrolet Bel Air had unusual bomb sight ornaments laid into the bonnet although unsightly they were small and unobtrusive and did not ruin the appeal of the car (see the 2002 Chevrolet BelAir concept).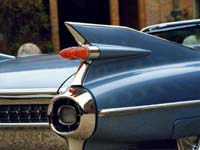 1959 Cadillac

The Ford Fairlane 500 Skyliner of 1959 showed by just name the extent to which designers looked to the skies. However this trend ended abruptly with the 1959 Cadillac. With fins which were a full 107cm, four after-burner tail lights, wrap around wind screen, and two fake jet engine reverse lights, this was taking it too far after the `59 jet like appendages began to disappear.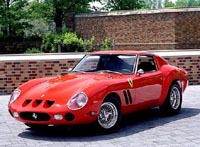 Ferrari 250 GTO

In Europe vehicles were undergoing a less radical change, the Jet age did not manage to whip the European public into quite such a frenzy. Elegant designs such as the AC ACE-Bristol which was then converted into the much better known AC Cobra appeared. Other well known cars such as the Aston Martin DB4, (James Bonds favourite mode of transport) and Jaguar XK120 (see Jaguar concepts here) were produced in England. Italy was responsible for bringing the Ferrari 250 GT SWB on the scene, and Germany built the Mercedes 300 Gullwing, Porsche 356 B and BMW 507. This is just a small selection of vehicles in Europe at the time, however they show this decades contribution to car design aptly, all the cars mentioned have things in common, they are all grandfathers of well known cars today, they all show gorgeous rounded, clean lines popular throughout vehicles of this era, this trend was to continue and become more refined into the next decade.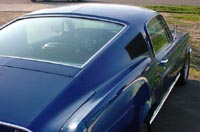 Ford Mustang

During the 1960s a new design competition began in America this time for power, speed and sheer engine size, they were dubbed the `pony` cars. Ford Mustang (see the Shelby Mustang GT500 concept car), Chevrolet Camaro and Dodge Charger R/T were some of the more famous names, vents appeared all over these cars especially on the more powerful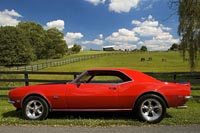 Chevrolet Camaro

versions, often these vents served no purpose whatsoever and were merely for looks. Some however, were functional and force fed air to the giant V8s lurking under the bonnet of these cars, the Charger for example had a capacity of 7.2 litres. Raw power like this forced styling changes to suit the cars power, muscular shapes, twin exhausts and go-faster stripes were all the rage. Specialist tuners such as Shelby, Yenko and Mopar appeared further improving vehicle performance and styling. In Europe during these times timeless classics such as the Jaguar E-type, Porsche 911, Lamborghini miura, AC Cobra (see the new AC Cobra concept car), Aston Martin DB5, and Ferrari 275 cars synonymous with speed and beauty appeared, alongside countless other design greats still revered today. Sports car manufacturers also competed on the track for sales, Le Mans became a showcase for top marques. During this time Fords gorgeous and aerodynamic GT40 beat the competition four years in a row removing Ferraris strangle hold.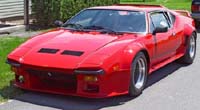 DeTomaso Pantera

The 1970s was a decade belonging to the wedge, high profile cars like the BMW M1, De Tomaso Pantera, Lamborghini Countach, and Lotus Esprit wore it proudly amongst many others. Concept cars of the day such as Bertone's Stratos HF prototype of 1970, and Ital designs Manta designed by Giorgietto Giugiaro, who interestingly also designed the Lotus Esprit and BMW M1 the seventies also heralded in very angular boxy lines which would be a styling trait carried over into the 1980s.


Opulence, over indulgence and over priced was the trend of the 1980s, during a decade of materialism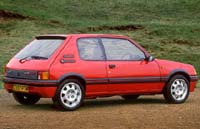 Peugeot 205 GTi

style was almost forgotten. Cars like the Audi Quattro looked purposeful, aggressive and powerful but hardly beautiful, similarly the Ferrari Testarossa was a break from the traditional flowing Ferrari lines, with super wide slatted doors and lights and angular lines it was different from the classic understated Ferrari. One of the most memorable areas of car design in the eighties is that of the hot hatch. Cars such as the Peugeot 205 GTi and Volkswagen Golf GTi (production started on the Golf in 1975) found a place in the market easily and cemented the hot hatch as a popular product, still expanding to this day. In America at this time styling had taken a turn for the worse, even the Corvette, Americas pride and joy looked worse than it ever had before or since. Plain shapes and black plastic every where seemed like a good idea at the time but look dated and highly un-fashionable in retrospect.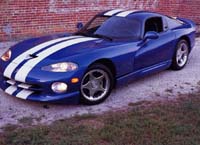 Dodge Viper GTS

The early part of the 1990s saw many eighties styling traits carried over, however once this was forgotten much more interesting shapes appeared.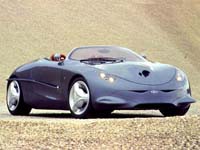 Ghia Focus concept

Many were very organic the Dodge Viper had extremely rounded lines and with its muscular haunches and powerful looks it was less like a machine and looked more like an animal. The Italian design house Ghia took the organic form to an extreme with the Focus of 1992 it looked more like it had been born than made. Curious shapes covered the car from its bubble like tail lights and front facia which looked like some sort of pre-historic animal, to the interior which had extremely ergonomic looking seats and dash board. Ford's GT90 concept of 1995 was almost the opposite of the Viper and Ghia Focus it incorporated Fords new design policy which was that of "edge design"it was the use of hard flat surfaces which intersected each other. More recent products of this school of thought would be cars like the Ford Focus and Ka.



SMART Car

During the last few years car designers have looked to product design for ideas, and that thinking is visible on many modern cars the Smart car is a good example of this it looks more like a gadget than a vehicle. Designers have also looked to the past and many updates done on existing vehicles are actually revivals of previous design solutions remade for the 21st century. One of the more complicated thing about car design is bringing getting the aesthetics and ergonomics in balance, what might look good to the eye, might be unfeasible to drive because the driver cannot see where he is going or the seat is uncomfortable. New technology has helped overcome some of these boundaries, and in the future new science will further advance what is possible. Car design is like fashion, always changing, it can never be predicted, and often looks to the past for answers to the future.


Further Information on:

sports cars and supercars

rare and classic sports cars

more concept cars

Read about the future of the automobile